Charter flights are a great way to get from point A to point B, but you may still have questions about how it all works. We're going to take a moment here at Noble Air Charter to answer a few of the top questions about charter flights to hopefully bring some clarity to this truly unique way of business and leisure travel.
What Are Charter Flights?
The most familiar kind of airline travel is a scheduled flight, which according to the US Department of Transportation (DOT), "operate according to pre-published schedules for departures and arrivals from one destination to another." Charter flights operate on unscheduled itineraries, so they are much more flexible to an individual's plans than a commercial flight. For example, if an airline is scheduled to fly from Miami to Orlando on Tuesdays at 1:00pm, that could be their only flight option, whereas charter flights can depart any time you want, and sometimes to smaller closer airports to you destination.
Are Charter Flights Expensive?
This is undoubtedly one of the most-asked questions about charter flights. Surprisingly, charter flights can be less expensive than commercial flights. There are a number of factors involved in calculating the price of charter flights, so best way to see how affordable it can be is to request a quote and witness first-hand.
Are Charter Flights Safe?
As Noble Air pilot Juan Sanchez says, "planes are safer than cars." Flying safely really boils down to airplane maintenance and pilot training. Noble Air Charter owns and flies the finest fleet of propeller aircraft and Citation Jets available and employs qualified airline transport pilots, and top notch mechanics.
Do You Have More Questions about Charter Flights?
Noble Air Charters is happy to answer any questions you have about charter flights. Please contact us to find out more about business or leisure charter flights from Miami, Florida to surrounding areas like Key West, the Bahamas, and much more. If you're ready to fly, you can request a quote any time.
or a Twin-Propeller Aircraft?
Our recommendations for the ideal aircraft vary based on your specific travel requirements. Typically, for distances of 250 miles or less, we suggest a Twin-Engine Propeller aircraft. This type of aircraft is especially suitable for short runways. For longer distances and faster travel times, we suggest choosing a Jet.

Our team understands that every travel need is unique, and we're ready to provide customized solutions for your travel plans. Our fleet is diverse and equipped to cater to a range of requirements, and our pilots are highly trained professionals who prioritize your safety and comfort. No matter where your travel takes you, our company is dedicated to providing you with the highest level of service and convenience. We look forward to taking you to your destination with ease and comfort.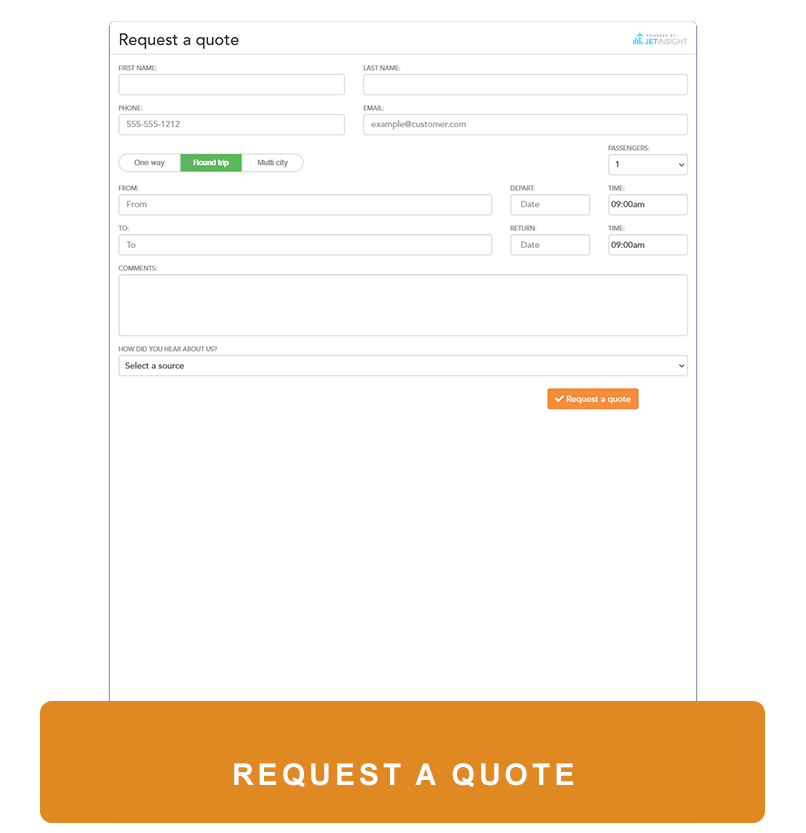 Our professional staff is ready to assist you in booking your private jet or turbo-charged propeller charter aircraft. Let's start with some basic information to get you going.
You can also reach us by phone, text and email.
Email: info@nobleaircharter.com