Noble Air Charter lists five things you may not know about flying charter. Some of the items might surprise you!
1. CHOICES NOT AVAILABLE ON COMMERCIAL
If you have always flown commercially, you know that everything is around set operations. Not so with private charters.
Choose your time: We work around the time you want to leave and return.
Choose your airport: We take you wherever you want to go, no matter how small or out of the way the destination airport.
Choose your aircraft: We will help you select the right aircraft and remember no size is too big or too small!
2. NOT JUST FOR THE RICH
Charter jet flight are quickly becoming an affordable, convenient, and accessible option to flying on a commercial airline. Costs depend on plane size, number of passengers, membership in a jet club, and whether the flight is an empty leg (meaning the return portion of a private one-way flight when the plane needs to return to another airport for another booked flight.)
3. CUSTOMIZE, CUSTOMIZE, CUSTOMIZE
Want to get your hair done on the flight? Need to have sushi on board? How about a hot towel around your neck? You got it with a most private jet charter firms.
4. YOUR PETS FLY IN THE CABINS
Usually, your pet can fly with you relieving the stress of having your furry companion stuck in cargo and run the risk of being injured, lost, or traumatized.
5. CONCIERGE SERVICE
Many private charters will help you secure a rental car, a hotel, and other things you might be needing after you land.
ABOUT NOBLE AIR CHARTER
Noble Air Charter is an FAA certified air carrier and a specialized provider of affordable private air charter services. Located at Miami-Opa Locka Executive Airport, we fly private air charters throughout Florida and the Bahamas.
Business Travel: When you need a quick day trip to complete a deal or an overnight to explore a business opportunity, Noble Air Charter will get you there and back quickly, safely, and affordably.
Vacation / Event Travel: The no fuss, easy to use, clean transport of Noble Air Charter will get you, your family and friends to that golf trip, wedding, family reunion, or hop to Bahamas or Key West safe and sound at a very reasonable price, on dependable aircraft, and with full attention paid to your needs and desires. Book a flight now at www.nobleaircharter.com.
Note: Check into Noble Air Charter's discounted block time packages!
or a Twin-Propeller Aircraft?
Our recommendations for the ideal aircraft vary based on your specific travel requirements. Typically, for distances of 250 miles or less, we suggest a Twin-Engine Propeller aircraft. This type of aircraft is especially suitable for short runways. For longer distances and faster travel times, we suggest choosing a Jet.

Our team understands that every travel need is unique, and we're ready to provide customized solutions for your travel plans. Our fleet is diverse and equipped to cater to a range of requirements, and our pilots are highly trained professionals who prioritize your safety and comfort. No matter where your travel takes you, our company is dedicated to providing you with the highest level of service and convenience. We look forward to taking you to your destination with ease and comfort.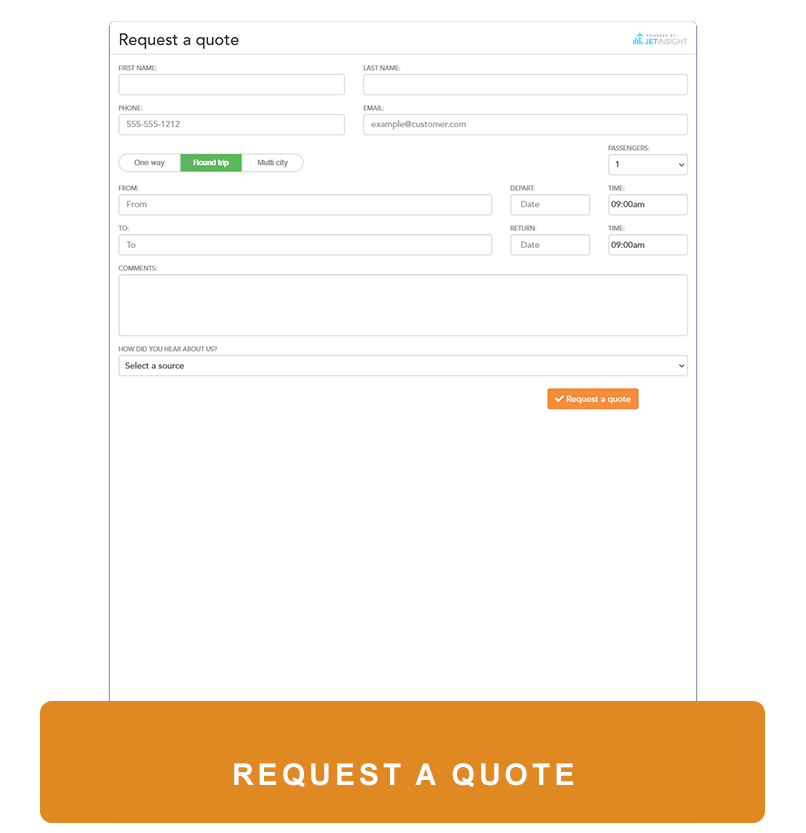 Our professional staff is ready to assist you in booking your private jet or turbo-charged propeller charter aircraft. Let's start with some basic information to get you going.
You can also reach us by phone, text and email.
Email: info@nobleaircharter.com