Commercial pilots are fairly anonymous – you'll likely never see them, and you'll probably only hear the co-pilot through the PA system a couple of times during the flight. With a charter flight, you get a much more up-close experience with the person sitting behind the stick. In this blog, we'll get to know a little more about one of Noble Air Charter's pilots, Mr. Juan Sanchez, who you are likely to see when you book your next charter flight with us.
Mr. Sanchez began his journey as pilot 12 years ago in a school in Maracay, Venezuela, just one hour from his hometown. In his own words, the journey was "a hard road to go" until he came the US just 18 months ago to begin flying charter flights with Noble Air Charter. Since then, Sanchez has been thoroughly enjoying his time in the air, flying everything from single engine planes to private jets. When asked which plane his favorite is to fly, he replied gleefully, "all planes are my favorites."
Since charter flight pilots get to interact more with their passengers, there's a stronger connection that develops between you and the crew. This is actually one of Mr. Sanchez's favorite things about flying for Noble Air- "[I get to] know new people, talk with clients, and give a good service." One of his other favorite things about being a pilot is having the opportunity to go to so many different destinations within a short time and with the same company.
Noble Air Charter flies to many destinations, mostly in within Florida and the Bahamas, but you can also book a charter flight to farther destinations. Mr. Sanchez loves flying to New York and Washington because, "always there is a new place or museum to go to." Whether for business or pleasure, Noble Air will take you where you want to go.
Nervous about booking a charter flight?
When asked if he had any advice for first-time charter flight passengers, Sanchez said, "enjoy the flight, planes are safer than cars." Our crew at Noble Air Charter is friendly, experienced, and here to take care of you for your business and tourism charter flight needs.
or a Twin-Propeller Aircraft?
Our recommendations for the ideal aircraft vary based on your specific travel requirements. Typically, for distances of 250 miles or less, we suggest a Twin-Engine Propeller aircraft. This type of aircraft is especially suitable for short runways. For longer distances and faster travel times, we suggest choosing a Jet.

Our team understands that every travel need is unique, and we're ready to provide customized solutions for your travel plans. Our fleet is diverse and equipped to cater to a range of requirements, and our pilots are highly trained professionals who prioritize your safety and comfort. No matter where your travel takes you, our company is dedicated to providing you with the highest level of service and convenience. We look forward to taking you to your destination with ease and comfort.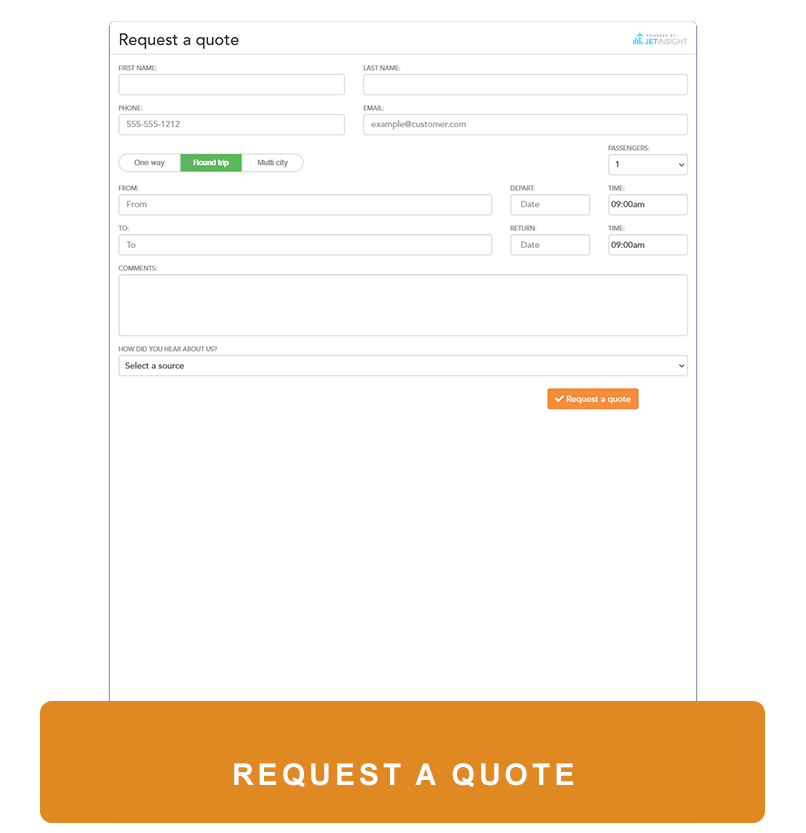 Our professional staff is ready to assist you in booking your private jet or turbo-charged propeller charter aircraft. Let's start with some basic information to get you going.
You can also reach us by phone, text and email.
Email: info@nobleaircharter.com