Hourly Costs Continue The Climb Up
Price inflation throughout the economy has been noticeable. From your basics like food and fuel to industrial items like parts, paint and more. The pandemic created a supply chain problem and coupled with global events, aggressive price hikes have been occurring and have been arriving to the aviation industry and jet cards used by travelers.
Hourly costs for fixed/capped rate charter jet cards have climbed 21 percent since the fourth quarter of 2020 and increases are expected to continue, according to Private Jet Card Comparisons. Rates jumped 5 percent since the end of 2021, added Private Jet Card Comparisons, which conducted an analysis of 250 jet card programs that offer fixed or capped hourly rates.
"Dozens of fixed/capped rate programs, which before Covid typically raised rates by $100 per year if at all, have increased prices multiple times since last summer," said company founder Doug Gollan. "The average jet card charter price increased by $1,799 per hour since the end of 2020."
Jet fuel prices are soaring and at some of the world's busiest airports and operators are anticipating a worsening shortage as supply dwindles amid sanctions on Russian energy exports.
Price Hike Time Delay…
These rates are lagging dynamic pricing, which reflects the current market, Gollan noted, which means more increases are likely. "It's a perfect storm of record demand, supply constraints, and rising costs, including pilot salaries, general payroll, fuel, incentives to aircraft owners, maintenance, and parts."
Research is finding that an average one-way hourly jet card charter rate has increased to $10,204 per hour, compared with $8,405 at the end of 2020. Average trip price for a fixed/capped rate jet card was $25,744.
However, on-demand charter costs that are based on dynamic pricing ranged between $24,894 and $41,654 per flight.
Broken down by aircraft category, hourly rates for fixed/capped rate jet cards are up
35 percent for light jets, to $7,564 per hour
24 percent for midsize jets, to $8,662; 22 percent for super-midsize jets
$11,171; 17 percent for large-cabin jets, to $14,173
16 percent for ultra-long-haul jets, to $17,767
Turboprop pricing also is up by 47 percent, to $6,564 per hour.
Noble Air Continues to Provide Value
Noble Air Charter continues to lead the way in being the best priced private air travel charter company in the U.S. while still providing quality driven service that helps customers reach their destinations. Utilizing our inhouse technology, aggressive and innovative marketing, our company has been able to continue to deliver private travel that rivals and beats every carrier without sacrificing quality.
Keep us in mind on your next private air travel needs.
About Us
Acquired in 2019 by Jonathan Jackson, Noble Air Charter has grown its fleet rapidly by bringing a fresh approach to private charter operations, dedication to maintenance and strict operating standards for the growing fleet of propeller & jet aircraft while hiring the most qualified pilots, maintenance crews, operations, and sales and support staff. Read More –>
or a Twin-Propeller Aircraft?
Our recommendations for the ideal aircraft vary based on your specific travel requirements. Typically, for distances of 250 miles or less, we suggest a Twin-Engine Propeller aircraft. This type of aircraft is especially suitable for short runways. For longer distances and faster travel times, we suggest choosing a Jet.

Our team understands that every travel need is unique, and we're ready to provide customized solutions for your travel plans. Our fleet is diverse and equipped to cater to a range of requirements, and our pilots are highly trained professionals who prioritize your safety and comfort. No matter where your travel takes you, our company is dedicated to providing you with the highest level of service and convenience. We look forward to taking you to your destination with ease and comfort.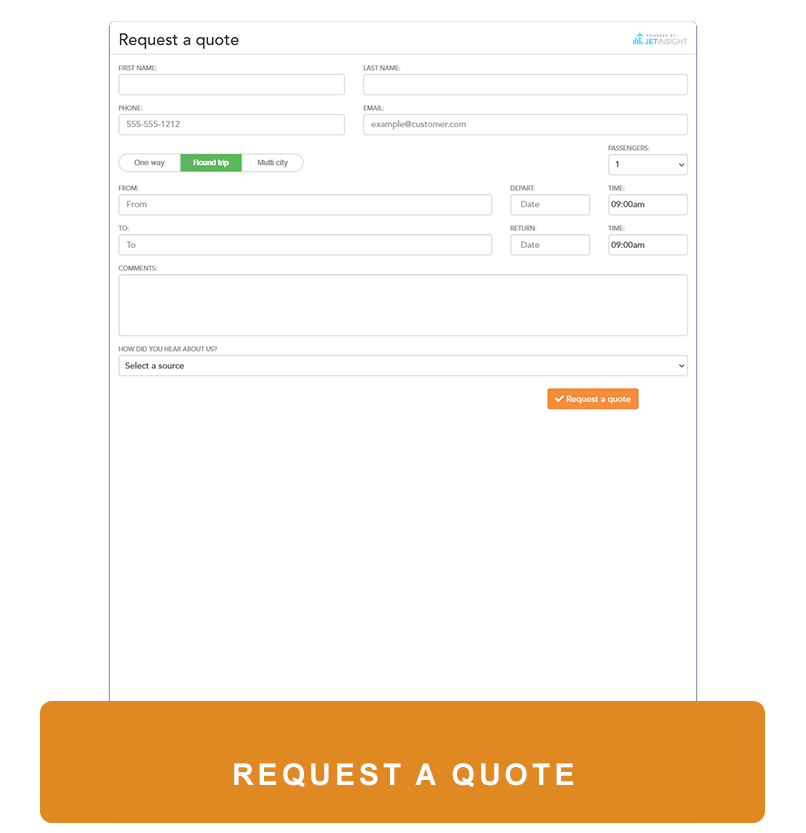 Our professional staff is ready to assist you in booking your private jet or turbo-charged propeller charter aircraft. Let's start with some basic information to get you going.
You can also reach us by phone, text and email.
Email: info@nobleaircharter.com