How do you plan to begin and end your visit to the beaches of the Bahamas and sun-kissed Florida festivals?
PRIVATE AIR CHARTER FLIGHTS TO FLORIDA AND THE BAHAMAS
The destination itself is usually great because vacationing is fun. It's the getting there and back that can be stressful. Commercial flight upcharges for every little thing, security lines, standing with bare feet on an airline terminal floor, snaking through a slooowww security line… yikes! And even if the line moves fast, you're sitting for 90 to 120 minutes waiting for the aircraft!
The stress of connecting flights, the scrunched up seats, the sparse leg room, all that can sour an otherwise perfect leisure trip.
SO, WHY NOT MAKE BOOKENDS OF THE GOING TO AND RETURNING FUN, ALSO?
Take a private jet to Fort Myers Beach, Cocoa Beach, Clearwater Beach, Miami Beach or Anna Maria Beach in Florida.
Like sports? Jet to St. Petersburg to see the first place Tampa Bay Rays play. On Sep 15, the Superbowl Champion New England Patriots are playing the Miami Dolphins in Miami!
Fly to the Bahamas for a quick getaway to the Bahamas beaches, Nassau and Paradise Island, Freeport on the Grand Bahama, or Alice Town, Bimini and the long stretch of beach called the Radio Coast.
FLORIDA AND THE BAHAMAS
The point is that living in Florida and so near the Bahamas opens up a cornucopia of year long vacation opportunities to try. If you do live here, ask your friends or family to come with and help defray the already affordable cost of a private jet charter.
About six months after flying a private jet to a Florida or Bahamas destination, you will all be saying… remember when we flew to…!
ABOUT NOBLE AIR CHARTER
Noble Air Charter is an FAA certified air carrier and a specialized provider of affordable private air charter services. Located at Miami-Opa Locka Executive Airport, we fly private air charters throughout Florida and the Bahamas.
Business Travel: When you need a quick day trip to complete a deal or an overnight to explore a business opportunity, Noble Air Charter will get you there and back quickly, safely, and affordably.
Vacation / Event Travel: The no fuss, easy to use, clean transport of Noble Air Charter will get you, your family and friends to that golf trip, wedding, family reunion, or hop to Bahamas or Key West safe and sound at a very reasonable price, on dependable aircraft, and with full attention paid to your needs and desires.
Note: Check into Noble Air Charter's discounted block time packages!
or a Twin-Propeller Aircraft?
Our recommendations for the ideal aircraft vary based on your specific travel requirements. Typically, for distances of 250 miles or less, we suggest a Twin-Engine Propeller aircraft. This type of aircraft is especially suitable for short runways. For longer distances and faster travel times, we suggest choosing a Jet.

Our team understands that every travel need is unique, and we're ready to provide customized solutions for your travel plans. Our fleet is diverse and equipped to cater to a range of requirements, and our pilots are highly trained professionals who prioritize your safety and comfort. No matter where your travel takes you, our company is dedicated to providing you with the highest level of service and convenience. We look forward to taking you to your destination with ease and comfort.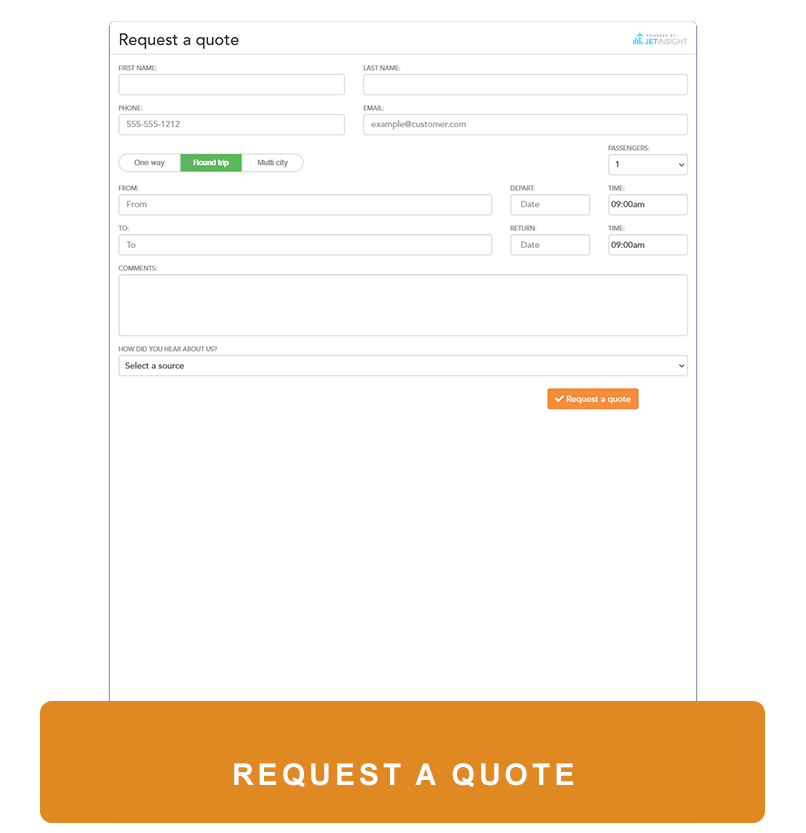 Our professional staff is ready to assist you in booking your private jet or turbo-charged propeller charter aircraft. Let's start with some basic information to get you going.
You can also reach us by phone, text and email.
Email: info@nobleaircharter.com