If you're headed for a three-day business meeting or lucky enough to go on a weekend getaway flying via charter is the easiest and quickest way.
Flying via charter rather than a commercial airliner is more efficient and saves you time. You can bypass the usual airport challenges when flying by private charter and enjoy the many perks not available on a commercial carrier.
Before you leave, make sure you pack appropriately after booking a flight with Noble Air Charter as space is limited.
Less is Better
Taking less baggage is key when flying aboard a charter since these aircraft tend to be smaller and have less storage so pack accordingly. Here are a few tips to help:
If possible, take a smaller overnight bag or a duffle bag instead of a big suitcase.
Roll clothing versus packing the usual way to save on space. Choose dark and/or neutral-colored clothing and lighter materials that won't wrinkle such as cotton or anything with Spandex. Skip linen that typically wrinkles fast and looks unsightly when unpacked.
Use smaller shampoo bottles, deodorant, toothpaste, etc.
Check with the charter service before the flight and ask what the luggage capacity is for the flight since charter aircraft size can vary.
Also, we are happy and usually able to accommodate larger items like golf clubs, fishing gear, and skis, but let us know at booking!
Remember to leave enough room in your carry-on, or overnight bag, or duffle for any purchases you plan on making and bringing home.
By packing accordingly before boarding your Noble Air Charter flight, your trip should be smoother and much more enjoyable.
Bon Voyage!
or a Twin-Propeller Aircraft?
Our recommendations for the ideal aircraft vary based on your specific travel requirements. Typically, for distances of 250 miles or less, we suggest a Twin-Engine Propeller aircraft. This type of aircraft is especially suitable for short runways. For longer distances and faster travel times, we suggest choosing a Jet.

Our team understands that every travel need is unique, and we're ready to provide customized solutions for your travel plans. Our fleet is diverse and equipped to cater to a range of requirements, and our pilots are highly trained professionals who prioritize your safety and comfort. No matter where your travel takes you, our company is dedicated to providing you with the highest level of service and convenience. We look forward to taking you to your destination with ease and comfort.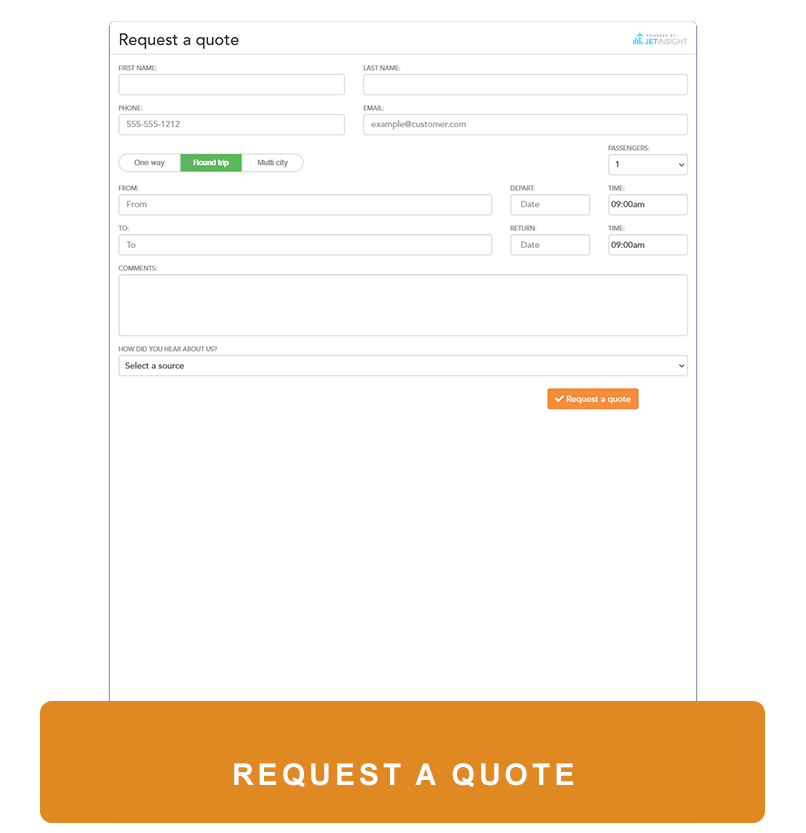 Our professional staff is ready to assist you in booking your private jet or turbo-charged propeller charter aircraft. Let's start with some basic information to get you going.
You can also reach us by phone, text and email.
Email: info@nobleaircharter.com