Some of the most prized fish in the world can be caught by fishing in the Bahamas. The warm and shallow Sea of Abaco, for example, is located along major migration routes for sailfish, blue marlin, and wahoo. Every year, the best anglers from all over the world gather here to compete in 'The Shootout'. So, get your gear ready and book a charter flight through Noble Air to find the best fishing in the Bahamas and the world.
New Provincial Island
Nassau is a sporting fisherman's paradise with the surrounding waters stocked full of game fish nearly year-round. Around here, wahoo is most abundant from November to February, blue marlin in June and July, and oceanic bonito and blackfin tuna from May to August. Venturing out into deep water isn't the only option- you can also set your anchor in shallow water and have a great fishing experience. There are numerous options for solo charter fishing in the Bahamas, or fishing with a crew, through local outfitters.
Grand Bahama Island
If you're hunting big game fish, the waters surrounding Grand Bahama Island are home to some of the biggest fish on the planet. Deep Water Cay is a well-known hotspot for snapper, grouper, yellowtail, wahoo, barracuda, and kingfish.
The Abaco Islands
Home of the world-famous competition for fishing in the Bahamas known as 'The Shootout', fisherman from all around the globe travel to this area in search of grand stories to bring home. Along with deep-sea fishing, bottom-fishing and drift-fishing are popular here, as well as fishing the bonefish flats near Treasure Cay. Professionals and more casual anglers come to The Abacos in search of barracuda, grouper, yellowtail, snapper, tuna, marlin, dolphinfish, and wahoo. Another popular hot spot in the area for tropical and deep-sea fish, is Green Turtle Cay.
The Exumas
Best known for deep-sea and bottom-fishing, this archipelago definitely offers some of the best fishing in the Bahamas. In these waters, hard-core anglers and amateurs alike hunt for kingfish, wahoo, dolphinfish, tuna, bonito, and bonefish. Hiring a local guide can be extremely helpful in navigating the tides and finding the hottest spots in the area.
Andros Island
Known for being the biggest island in the Bahamas, Andros is home to many rivers, streams, and miles of shallow coastline that are sure to delight any fly fisherman. Seemingly endless tarpon, permit, and bonefish can be found swimming through these channels, just waiting to be your next catch.
It's Time to Go Fishing in the Bahamas
There's no time like the present. Start your next adventure to go fishing in the Bahamas by booking your charter flight through Noble Air Charters.
or a Twin-Propeller Aircraft?
Our recommendations for the ideal aircraft vary based on your specific travel requirements. Typically, for distances of 250 miles or less, we suggest a Twin-Engine Propeller aircraft. This type of aircraft is especially suitable for short runways. For longer distances and faster travel times, we suggest choosing a Jet.

Our team understands that every travel need is unique, and we're ready to provide customized solutions for your travel plans. Our fleet is diverse and equipped to cater to a range of requirements, and our pilots are highly trained professionals who prioritize your safety and comfort. No matter where your travel takes you, our company is dedicated to providing you with the highest level of service and convenience. We look forward to taking you to your destination with ease and comfort.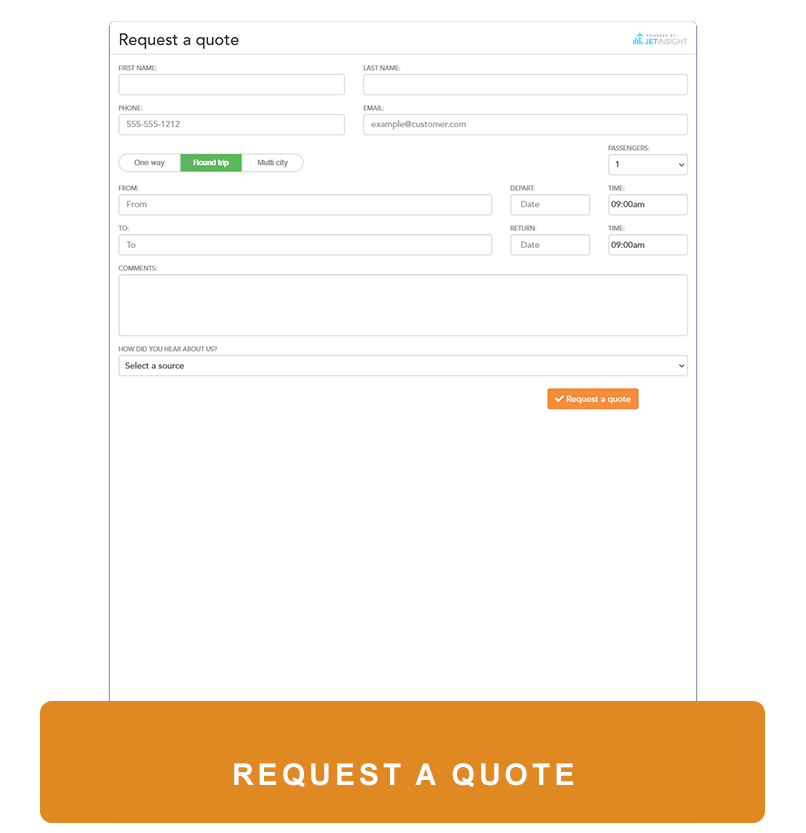 Our professional staff is ready to assist you in booking your private jet or turbo-charged propeller charter aircraft. Let's start with some basic information to get you going.
You can also reach us by phone, text and email.
Email: info@nobleaircharter.com