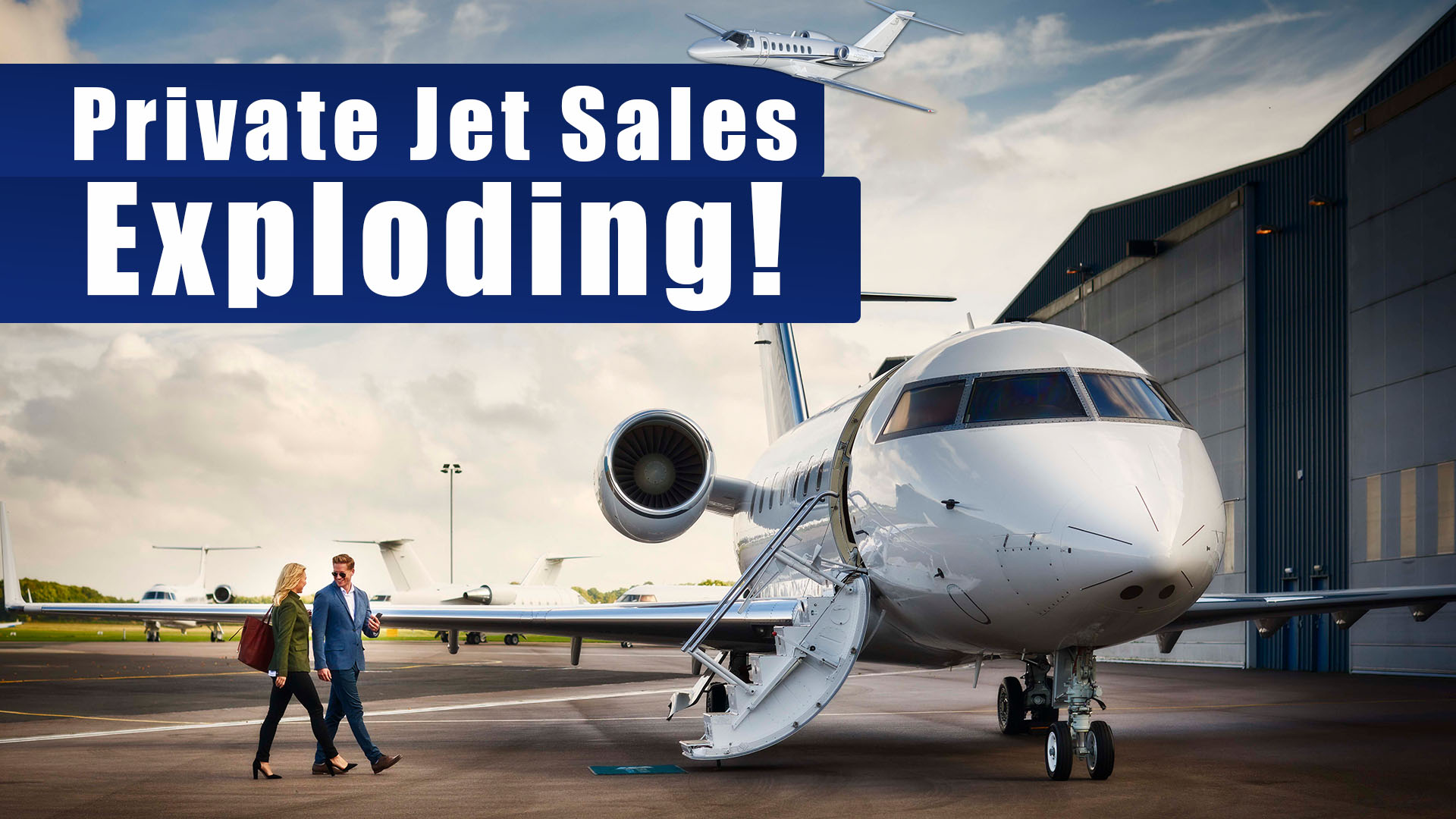 It's not just Coronavirus fueling sales
For years, private jets have carried the super-rich to destinations globally in and out of public and private airports. As ultimate status symbols, they've brought the convenience of private air charter to customers and offered no waiting in line for security checks, frequent delays, and just overall poor customer service that we see with flying commercial. Even first class and business flyers have gotten fed-up with the lack of standards and service they provide today.
But…something happened at the start of the pandemic, and it still continues despite the up and down news cycles of virus mutations. Sales and booking have skyrocketed! It seems that not only a larger amount of the population gravitated to private air, but they have realized…"traveling like this is great" and they don't seem to be letting up.
Instead, it seems one friend has told another and now we sit in a market where finding seats is becoming difficult and manufactures can't build private jets fast enough. This will only push higher the use of jets by business people and the growing number of millionaires, billionaires, crypto kings etc., who have travel fever and fists full of cash.
Record Private Flights
The surge in demand for private jet travel is putting a crimp in their plans. They too now are facing increasing delays, unavailable routes, and just not many flight options s as the industry struggles to meet the needs of a record number of new fliers.
Throw into this mix the supply chain issues and labor issues during this "great reshuffle" in the work force and the strains are being felt industry wide.
Last summer, in July, it was the busiest month ever for private jet flights. With over 300,000 flights as stated by Argus International. And while business usually has slowed down in the fall… September and October continued to smash through those numbers.
Turning away new business
The overwhelming demand for jets has gotten so extreme, some operators are not taking quotes or booking new flights as they are at max capacity.
Sentient Jet for example just stopped sales of jet cards as of Sept. 30. They want to focus on its existing customers.
NetJets has halted sales of jet cards, fractional shares and leases for light cabin aircraft — like their Citation XLS and Phenom 300. The company stated that flight demand is the highest in its 57-year history, averaging 500 flights a day compared with under 400 in 2019.
"The vast number of flights is taxing the air travel infrastructure in ways we haven't seen in years," stated by NetJets…Pausing light jet sales, along with other restrictions on card buyers, "allows the company to continue prioritizing what is most important — delivering the best possible experience to all owners."
Jet Sales Are Red Hot
In another sign of a tight market, business jet operators are also purchasing more used aircraft, showing that manufacturers were not prepared for the higher 's demand. This is causing a run-up on prices on a shrinking inventory of used aircraft available. Honeywell's recent survey found that global operators expected to replace or expand 28% of their fleet with used jets in the next five years and 65% of respondents expect to operate their business jets more in 2022.
Jonathan Jackson, President and owner of Noble air charter in Miami said: "The private plane business is booming like never before and we're noticing it's becoming harder and harder to find a good jet to buy. Over a year ago you could find 20-30 of a particular class of jet now you're lucky if you find 2-3 of that type."
The company provides fractional ownership for private jet charters, piston aircraft charters, and jet card services for people who wish to avoid airports and travel in comfort.
The demand for new private jets means boom times for plane makers like Bombardier Inc., Textron Inc., Embraer SA, and General Dynamics Inc.'s Gulfstream unit. Many not looking to adjust pricing demand spikes (see NBC video)
Ron Draper, CEO of Textron Aviation, the maker of Cessna jets said the influx of new customers has come as a surprise. Many first-time private fliers are finding that avoiding commercial travel is the better way to fly and get to your destination.
Commercial Woes vs Private Travel
It's a night and day difference with what's going on with the commercial aviation industry and their slow recovery. To add salt to the wound, the first week of December saw these travel companies like Delta, American Airlines and others take a beating in the markets due in o fears of Omicron Covid Variant.
This segment is much more sensitive to lockdowns, travel bans and low passenger numbers.
long-haul travel continues to recover slowly, though the opening of the US to vaccinated travelers last month will drive substantial demand," said Karthik Venkataraman, leader of Bain & Company's Americas Airlines, Logistics and Transportation sector.
Uncertainty fills the air., and the markets are showing that. "We believe fundamentally that people want to travel, but it will likely be 2025 or beyond before we return to 2019 levels, and airlines will need to remain responsive to demand and supply trends," he concluded. Additionally, the future could be disrupted by less business class travel, high fuel prices, the need to fly green or increased pressure to avoid flying all together.
Business class and first class will need to step up their game if they look to compete against private jet charters possibly. The growing number of YouTube personalities traveling and eating first class travel shows that you don't really get extravagant comfort, class, conviene or customer service but can pay out just as much or even more in some cases then flying on private charter planes.
Will This Last?
Will these good times last? Will people not want to go back to flying commercial and stay flying private? It is hard to let go of traveling private once you start.
So far it seems that way and is showing no signs of letting up.

Fly with Noble Air Charter – But Book Ahead
At Noble Air, we are honest, open and provide the best private jet and turbo-prop plane fleet and personal service that makes customers love us. As you see the industry demand is not letting up and we want to make sure you get the best service and can schedule your flights to avoid any issues.
Call or email us for any private air travel needs.
As you have seen, the prices will depend on trip variables, destination, type of jet and other factors.
Begin Your Booking
Begin Your Booking
Our professional staff is ready to assist you in booking your private jet or turbo-charged propeller charter aircraft. Let's start with some basic information to get you going. 
You can also reach us by phone, text and email.
Office: (305) 685-9634
Fax: (305) 688-7588
Email: info@nobleaircharter.com