Atlanta Private Jet Charter
Atlanta, GA, is the most populous city in the U.S. known as the "Peach City", is becoming the second-largest city in the film industry. Situated among the foothills of the Appalachian Mountains, it features unique topography that includes rolling hills and the densest urban tree coverage in the United States.
As of 2010, Atlanta is the seventh-most visited city in the United States, with over 35 million visitors per year. Although the most popular attraction among visitors to Atlanta is the Georgia Aquarium, the world's largest indoor aquarium, Atlanta's tourism industry is mostly driven by the city's history museums and outdoor attractions.
Atlanta contains a notable number of historical museums and sites, including the Martin Luther King Jr. National Historical Park, which includes the preserved childhood home of Dr. Martin Luther King Jr., as well as his final resting place; the Atlanta Cyclorama & Civil War Museum, which houses a massive painting and diorama in-the-round, with a rotating central audience platform, depicting the Battle of Atlanta in the Civil War; the World of Coca-Cola, featuring the history of the world-famous soft drink brand and its well-known advertising; the College Football Hall of Fame, which honors college football and its athletes; the National Center for Civil and Human Rights, which explores the civil rights movement and its connection to contemporary human rights movements throughout the world; the Carter Center and Presidential Library, housing U.S. President Jimmy Carter's papers and other material relating to the Carter administration and the Carter family's life; and the Margaret Mitchell House and Museum, where Mitchell wrote the best-selling novel Gone with the Wind.
Atlanta contains several outdoor attractions. The Atlanta Botanical Garden, adjacent to Piedmont Park, is home to the 600-foot-long (180 m) Kendeda Canopy Walk, a skywalk that allows visitors to tour one of the city's last remaining urban forests from 40 feet (12 m) above the ground. The Canopy Walk is considered, the only canopy-level pathway of its kind in the United States. Zoo Atlanta, in Grant Park, accommodates over 1,300 animals representing more than 220 species. Home to the nation's largest collections of gorillas and orangutans, the zoo is one of only four zoos in the U.S. to house giant pandas. Festivals showcasing arts and crafts, film, and music, including the Atlanta Dogwood Festival, the Atlanta Film Festival, and Music Midtown, respectively, are also popular with tourists.
Tourists are drawn to the city's culinary scene, which comprises a mix of urban establishments garnering national attention, ethnic restaurants serving cuisine from every corner of the world, and traditional eateries specializing in Southern dining. Since the turn of the 21st century, Atlanta has emerged as a sophisticated restaurant town. Many restaurants opened in the city's gentrifying neighborhoods have received praise at the national level, including Bocado, Bacchanalia, and Miller Union in West Midtown, Empire State South in Midtown, and Two Urban Licks and Rathbun's on the east side. In 2011,  Visitors seeking to sample international Atlanta are directed to Buford Highway, the city's international corridor, and suburban Gwinnett County. There, the nearly-million immigrants that make Atlanta home have established various authentic ethnic restaurants representing virtually every nationality on the globe. For traditional Southern fare, one of the city's most famous establishments is The Varsity, a long-lived fast-food chain, and the world's largest drive-in restaurant. Mary Mac's Tea Room and Paschal's are more formal destinations for Southern food.
Atlanta Private Jet Charter is one of our most popular offerings at Noble Air. We operate light jets and propeller jets locally and have operating aircraft that can fly you down to Florida from anywhere in the world. For business, pleasure, or any event, Key West is a huge destination for people everywhere.
Call us today to discuss your Key West, FL private jet charter needs and wishes. Let us show you the convenience and luxury that only private jet travel can offer.
Airports In Atlanta, Ga
The most important airports in ATL:
1. AHN, Athens, Athens, United States.
2. ATL, Hartsfield-jackson Atlanta International, Atlanta, GA, United States.
3. CWG, Callaway Gardens, Callaway Gardens, United States.
4. FTY, Fulton County, Atlanta, United States.
5. GVL, Lee Gilmer Memorial, Gainesville, United States.
6. JAJ, Perimeter Mall, Atlanta, United States.
7. JAO, Beaver Ruin, Atlanta, United States.
8. JGL, Galleria Heliport, Atlanta, United States.
9. LGC, Calloway, La Grange, United States.
10. MGE, Dobbins Afb, Marietta, United States.
11. NCQ, Atlanta Nas, Marietta, GA, United States.
12. PDK, Dekalb-Peachtree, Atlanta, GA, United States.
13. PIM, Garden Harris County, Pine Mountain, United States.
14. RMG, Richard B Russell, Rome, United States.
15. WDR, Winder, Winder, United States.
Atlanta Private Jet Charter Flights
Book your Atlanta Private Jet Charter with us! We have private jets that can fly you from any part of the U.S. to any airport in Atlanta. Consider us when planning a private flight charter to Peach city.
Noble Air Charter has been serving the United States business and leisure travel needs for over 14 years with an experienced staff and a growing fleet of private jets and aircraft.

or a Twin-Propeller Aircraft?
Our recommendations for the ideal aircraft vary based on your specific travel requirements. Typically, for distances of 250 miles or less, we suggest a Twin-Engine Propeller aircraft. This type of aircraft is especially suitable for short runways. For longer distances and faster travel times, we suggest choosing a Jet.

Our team understands that every travel need is unique, and we're ready to provide customized solutions for your travel plans. Our fleet is diverse and equipped to cater to a range of requirements, and our pilots are highly trained professionals who prioritize your safety and comfort. No matter where your travel takes you, our company is dedicated to providing you with the highest level of service and convenience. We look forward to taking you to your destination with ease and comfort.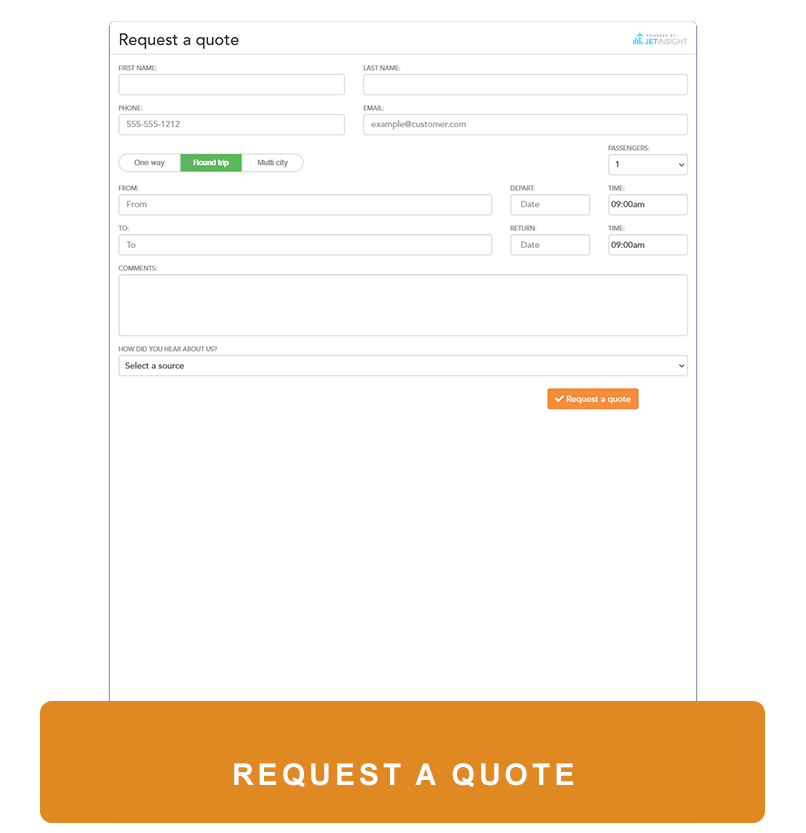 Our professional staff is ready to assist you in booking your private jet or turbo-charged propeller charter aircraft. Let's start with some basic information to get you going.
You can also reach us by phone, text and email.
Email: info@nobleaircharter.com