The Cessna 402C N426LJ is the perfect choice for all your private travel needs, whether for business or leisure. This aircraft can comfortably accommodate a total of 7 passengers. With a cruise speed of 207 mph and an average cruise altitude of 9,000 ft, it ensures efficient transportation to and from airports. The Cessna 402C excels at shorter distance travel and is particularly recommended for journeys within 250 miles or less. In such cases, we suggest considering a Twin-Engine Propeller aircraft.
It is an excellent option for idyllic island getaways, Bahamas travel, as well as exploring the beautiful landscapes of Florida and the Keys.
Departing from the greater Miami/Broward area, this aircraft is well-suited for regional travel, including destinations such as the Bahamas, Key West, Marathon, Tampa, Orlando, Daytona, Naples, and more. Its proficiency in handling short runways allows access to locations that are typically inaccessible to jets.
Please don't hesitate to contact us for booking quotes and further details.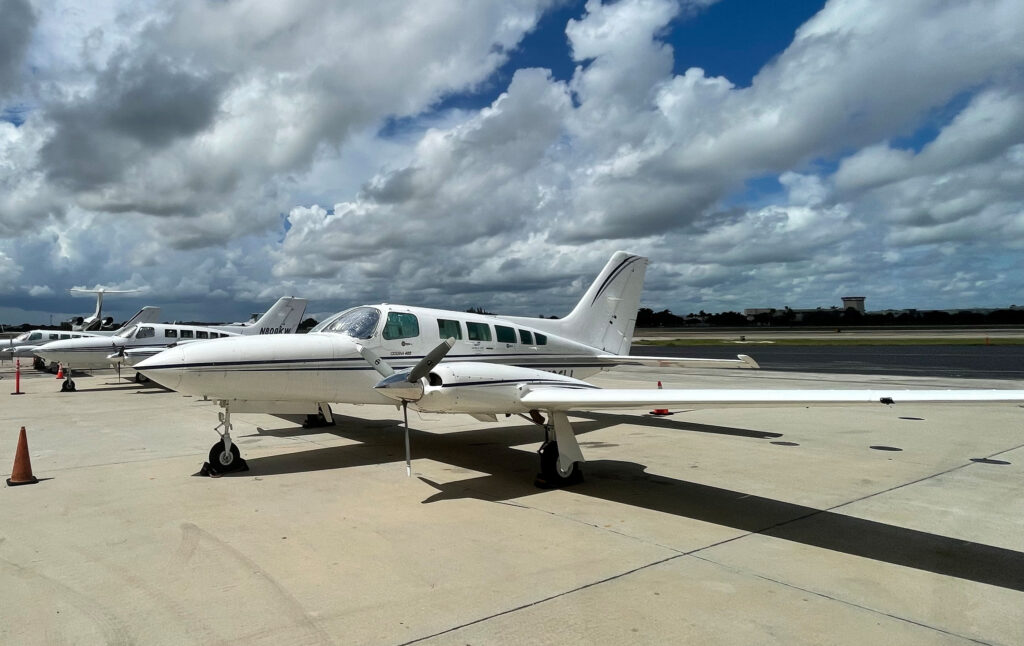 The Cessna 402C is an excellent and cost-effective option for flights lasting less than 2 hours. 
Here are a few sample pricing estimates for roundtrip flights:
Miami to Freeport and back: Approximately $4,800
Miami to Nassau and back: Approximately $6,500
*Please note that these prices include the convenience of dropping you off and picking you up on separate days. If you require a same-day round trip, the cost may be slightly lower.
*Additionally, we offer the flexibility to pick you up from various airports, including PBI, FLL, Naples, Tampa, Orlando, and more.
Cessna 402B Specifications
Hre are some operational specifications for the Cessna 402:
Holds up to 7 passengers
Statue Miles: 1400
Cruising Speed: 170 KN (207 MPH)
1-2 Crew Members
Luggage Space: 36 Cubic Feet
Useful Load: 1717 LB
Powerplant: 2x Continental TSIO-520 Turbocharged
Jet Maximum Speed: 230 KN (266 MPH)
Service Ceiling: 26,900 FT
or a Twin-Propeller Aircraft?
Our recommendations for the ideal aircraft vary based on your specific travel requirements. Typically, for distances of 250 miles or less, we suggest a Twin-Engine Propeller aircraft. This type of aircraft is especially suitable for short runways. For longer distances and faster travel times, we suggest choosing a Jet.

Our team understands that every travel need is unique, and we're ready to provide customized solutions for your travel plans. Our fleet is diverse and equipped to cater to a range of requirements, and our pilots are highly trained professionals who prioritize your safety and comfort. No matter where your travel takes you, our company is dedicated to providing you with the highest level of service and convenience. We look forward to taking you to your destination with ease and comfort.
Private Jet Charters & Private Twin-Engine
Turbo-Charged Prop Charters
Our private air charter services provide a convenient alternative to major metropolitan airports, offering you the luxury of avoiding traffic and the hassle associated with commercial flying.
Avoid long line, TSA, and the need to arrive a the airport two hours before your scheduled flight. Our aim is to provide a hassle-free and convenient travel experience, freeing you from the constraints of commercial air travel.
Invite your colleagues, travel with business associates, or embark on a family getaway – Novel Air offers a seamless travel experience that accommodates everyone, including your beloved pets.
Unlock limitless travel possibilities with Noble Air Charter. Our team of experts is dedicated to facilitating seamless travel experiences worldwide, ensuring hassle-free booking and exceptional service.
Our professional staff is ready to assist you in booking your private jet or turbo-charged propeller charter aircraft. Let's start with some basic information to get you going.
You can also reach us by phone, text and email.
Email: info@nobleaircharter.com