9 Passenger
Configuration
Online Booking
View Flight Quotes
Citation S/II – N712MG
Our Citation II is perfect for any private travel needs. Business or leisure, the jet is capable of carrying 8 passengers + 1 belted lav. With a max cruise speed of 428 mph, and a range of 1780 miles. This jet will get you to your needs.
Our Jet Charter Executives are ready to reserve your flight needs.
Ask us about our Jet Card Program as well for any of our Noble Fleet jets and plane needs.
Contact us for booking quotes and details.
Citation S/II – N712MG Price
The Cessna Citation Sii costs will depend on itinerary factors. Quoting will include all the necessary fees when booking this aircraft. Depending on your itinerary, taxes, country fees, and other variables, repositions, crew stay etc., your quotes can vary based on needs. Contact us for details and how to fly in this jet.
Citation S/II – N712MG Specifications
Below are some operating specifications for the Cessna Citation Excel.
Exterior
Exterior Height: 15 ft
Wing Span: 52 ft 2 in
Length: 47 ft 2 in
External Baggage: 41 cu ft
Interior
Cabin Volume: 292 cu ft
Internal Baggage: 36 cu ft
110 VAC outlets
USB Ports
Enclosed Lavatory
Coffee, Tea, Light Snacks
YOR 2020
Baggage Space
Nose= 5 Carry-Ons
External= 5 Large Suitcase
Internal= 3 Large Suitcase
Operating Weights
Max T/O Weight: 15100 Lb
Max Landing Weight: 14000 Lb
Operating Weight: 9000 Lb
Fuel Capacity: 5603 lbs Lb
Payload W/Full Fuel: 697 Lb
Max Payload: 2200 Lb
Range
Normal Range: 1430 nm
Max Range: 1840 nm
Service Ceiling: 43000 ft
or a Twin-Propeller Aircraft?
Our recommendations for the ideal aircraft vary based on your specific travel requirements. Typically, for distances of 250 miles or less, we suggest a Twin-Engine Propeller aircraft. This type of aircraft is especially suitable for short runways. For longer distances and faster travel times, we suggest choosing a Jet.

Our team understands that every travel need is unique, and we're ready to provide customized solutions for your travel plans. Our fleet is diverse and equipped to cater to a range of requirements, and our pilots are highly trained professionals who prioritize your safety and comfort. No matter where your travel takes you, our company is dedicated to providing you with the highest level of service and convenience. We look forward to taking you to your destination with ease and comfort.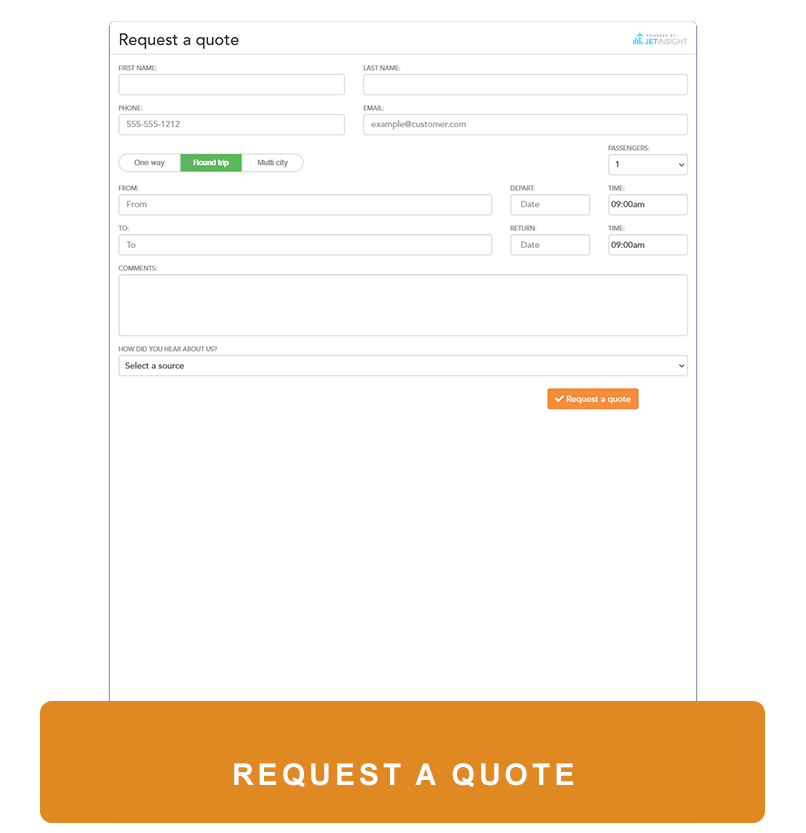 Our professional staff is ready to assist you in booking your private jet or turbo-charged propeller charter aircraft. Let's start with some basic information to get you going.
You can also reach us by phone, text and email.
Email: info@nobleaircharter.com