Cleveland Private Jet Charter
Cleveland is the second-largest city in Ohio and represents modernization with a rustic flair. The city has a strong cultural side, with theaters, museums, and a thriving social scene in the Flats East Bank, where the Cuyahoga River and Lake Erie converge. Tourists will find no shortage of things to do.
In the 1800s, Cleveland was one of the most important canal ports in the eastern United States and an industrial center where some of the richest American entrepreneurs made their fortunes. The luxury residences on Euclid Avenue, known as Millionaires' Row, are a testament to their wealth.
Among those who lived here around the turn of the 19th century were John D. Rockefeller, founder of the Standard Oil Company, and Samuel Mather, who made his fortune in steel production and transport.
Today, the remnants of Cleveland's historical railway and canal notoriety serve as an eclectic backdrop for a vibrant city that is turning warehouses into boutique hotels and is a prominent destination for world-class sporting events and concerts near the waterfront.
Take a stroll along with Cleveland's popular Historic Warehouse District, spend an evening enjoying some of the city's major sports complexes in the Historic Gateway District, or explore some of Cleveland's spectacular museums and attractions. For more ideas, see our list of things to do in Cleveland.
Call us today to discuss your Cleveland private jet charter needs and wishes. Let us show you the convenience and luxury that only private jet travel can offer.
Airports In Cleveland
Cleveland Burke Lakefront
Cleveland Hopkins International.
Popular Cleveland Private Jet Charter Routes
Private Jet from New York to Cleveland
Private Jet from Boston to Cleveland
Charter Flights from Chicago to Cleveland
Private Plane Charter from Orlando to Cleveland
Private Jet Charter from Dallas to Cleveland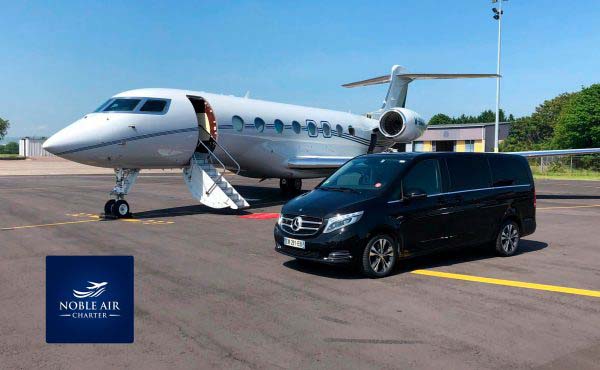 Private Jet Charters & Private Twin-Engine Turbo-Charged Prop Charters
Hassle Free
Avoid traffic and the hassle of flying out of major metropolitan airports.
No Lines
Say farewell to long lines, TSA and arriving two hours early for flights.
Convenience
Bring everyone, fly with business associates, or your family…and your pet!
Go Anywhere
Plan a trip anywhere with Noble Air Charter. We'll help book travel globally.
Begin Your Booking
Begin Your Booking
Our professional staff is ready to assist you in booking your private jet or turbo-charged propeller charter aircraft. Let's start with some basic information to get you going. 
You can also reach us by phone, text and email.
Office: (305) 685-9634
Fax: (305) 688-7588
Email: info@nobleaircharter.com