Houston Private Jet Charter
Welcome to Huston, TX. The style-savvy residents of the USA's fourth-largest city and third-largest county, Harris, know there's no place quite like Houston. With more than 2.2 million residents, the city attracts visitors and transplants with a wonderful mix of world-class arts, booming businesses, professional sports and award-winning cuisine. And the world is discovering what locals have known all along: Houston landed on several "best of" lists, including the Travel + Leisure roundup of America's Favorite Cities and the Hotwire.com index of most affordable U.S. vacation destinations.Learn about top things to do and places to visit in Houston, Texas.
In Houston, much of daily life happens outdoors, thanks to mild, year-round temperatures. Take time to explore eclectic, culture-filled neighborhoods, galleries and attractions, which offer diverse activities and vibes that can only be found here.
Take the food, for example. Countless cutting-edge chefs have made a home in Houston, where diners eat out more than residents of any other city. You'll find James Beard Award-winners and internationally renowned chefs serving up innovative cuisine that frequently catches the attention of foodies in Bon Appetit, Food & Wine and Saveur.
The stylish dining scene is only a slice of Houston's epicurean side, a fact that the city's culinary masterminds intend to prove with the Houston Culinary Tours. Each intimate 16-person, chef-led tour shows the hidden side of the city's food scene, one taco truck and ethnic market at a time.
Venture downtown during your stay and discover a thriving professional arts scene with professional resident companies in ballet, opera, symphony and theater, making it one of the few U.S. cities that can boast the same. The nearby Museum District stakes its claim as the country's fourth largest with 18 cultural powerhouses set within blocks of one another.
Houston even has its own version of Central Park with more than 600 hectares of green space in the heart of the city. Just inside "the loop," an interstate highway around the city, Memorial Park is home to a public golf course, swimming pool, tennis courts, trails and more. Downtown, Discovery Green is a park with Wi-Fi, a farmers' market, dog runs, fine dining and ice skating during the winter, just one more of the 650-plus urban green spaces filling the city.
Businesses also recognize Houston's allure. Twenty-five companies on the Fortune 500 list call the Energy Capital of the World home. Aeronautic research is unsurpassed at NASA headquarters – the facility responsible for putting the first man on the moon – and Texas Medical Center remains the largest in the world with 47 highly lauded research and treatment institutions.
Live like a local for a few days and discover why Houston's mix of international appeal and Southern charm have captured the imagination of tastemakers the world over.
Call us today to discuss your Houston Private Jet Charter needs and wishes. Let us show you the convenience and luxury that only private jet travel can offer.
Airports In Houston, TX
George Bush Intercontinental Airport Houston IAH KIAH IAH
William P. Hobby Airport Houston HOU KHOU HOU
Texas Gulf Coast Regional Airport Angleton/Lake Jackson, Texas LJN KLBX LBX
Scholes International Airport at Galveston Galveston GLS KGLS GLS
Ellington Airport Houston EFD KEFD EFD 9,001
West Houston Airport Unincorporated Western Harris County IWS KIWS IWS
Houston Southwest Airport Arcola – KAXH AXH
Conroe-North Houston Regional Airport Conroe CXO KCXO CXO
Pearland Regional Airport Unincorporated Brazoria County
Sugar Land Regional Airport Sugar Land SGR KSGR SGR
David Wayne Hooks Memorial Airport Tomball DWH KDWH DWH
La Porte Municipal Airport La Porte
Chambers County Airport Unincorporated Chambers County
Cleveland Municipal Airport Cleveland, Texas
Liberty Municipal Airport Liberty, Texas
Alvin Airpark Alvin, Texas
Flying Tiger Airport Angleton
Bailes Airport Angleton
Baytown Airport Baytown
RWJ Airpark Beach City, Texas
Ward Airpark Beasley
Covey Trails Airport Fulshear
Dry Creek Airport Cypress, Texas
Houston Executive Airport Brookshire, Texas
Dan Jones International Airport Tomball
Flyin' B Airport Unincorporated Brazoria County
Houston Fort Bend Airport Unincorporated Fort Bend
Sack-O-Grande Acroport Unincorporated Harris County
Wolfe Airpark Manvel – – 3T2 2,910
Skyway Manor Airport Pearland
Lane Airpark Rosenberg, Texas
Skydive Houston Airport Unincorporated Waller County
Gloster Aerodrome Sealy, Texas
Popular Houston Private Jet Charter destinations
George Bush Intercontinental Airport (IAH)
George Bush Intercontinental Houston Airport sits 23 miles north of downtown Houston in the Aldine area, adjacent to Humble. In 2017, it was ranked the world's 43rd busiest airport in terms of passenger traffic, and among the top 10 busiest in North America. Facilities include five terminals with inter-terminal transportation: an elevated train called The Skyway. Passengers can book one of two comfortable lounges in Terminal D, where you can unwind away from the noise of the departure hall, or book into the onsite Marriott hotel.
William P Hobby Airport (HOU)
William P Hobby Airport is the oldest commercial airport in Houston and was its primary commercial airport until the opening of George Bush Intercontinental Houston Airport. The original terminal now houses the 1940 Air Terminal Museum and four FBOs offer jet charter passengers a selection of private luxury lounges with refreshments, business facilities, showers and Wi-Fi.
Sugar Land Regional Airport (SGR)
Sugar Land Regional Airport is a public-use airport located just outside Houston offering corporate, government and private clientele a full range of passenger amenities including a concierge service. A new 20,000 square foot terminal opened in 2006, along with a 54-acre general aviation (GA) complex including 99 T-hangars in six buildings. In 2018,, the Sugar Land Regional Airport Air Traffic Control Tower won Robinson Aviation's Facility of the Year Award for going over and above the call of duty during Super Bowl 51 and Hurricane Harvey.
Ellington Airport (EFD)
Ellington Airport is a joint civilian and military airport that's rich in aviation history (stop by the Lone Flight Museum if you have time). They also host the Wings Over Houston Airshow each year and Ellington's the place where many astronauts from the world-renowned Johnson Space Center receive their ongoing space training.
David Wayne Hooks Memorial Airport (DWH)
David Wayne Hooks Memorial Airport is one of the largest privately-owned airports in the USA and specializes in general, business and military aviation. Originally built by a local pilot for his personal use, the hobby airport ended up expanding to cater to a growing demand for air travel to and from Houston. Today, the facility is owned by Gill Aviation, an on-site FBO that offers visitors a number of services including luxury lounges, a theater room and light refreshments.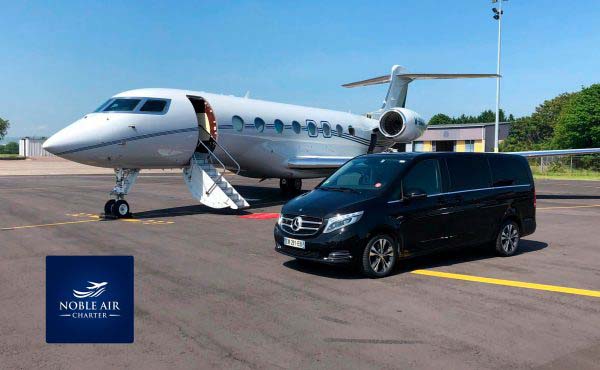 or a Twin-Propeller Aircraft?
Our recommendations for the ideal aircraft vary based on your specific travel requirements. Typically, for distances of 250 miles or less, we suggest a Twin-Engine Propeller aircraft. This type of aircraft is especially suitable for short runways. For longer distances and faster travel times, we suggest choosing a Jet.

Our team understands that every travel need is unique, and we're ready to provide customized solutions for your travel plans. Our fleet is diverse and equipped to cater to a range of requirements, and our pilots are highly trained professionals who prioritize your safety and comfort. No matter where your travel takes you, our company is dedicated to providing you with the highest level of service and convenience. We look forward to taking you to your destination with ease and comfort.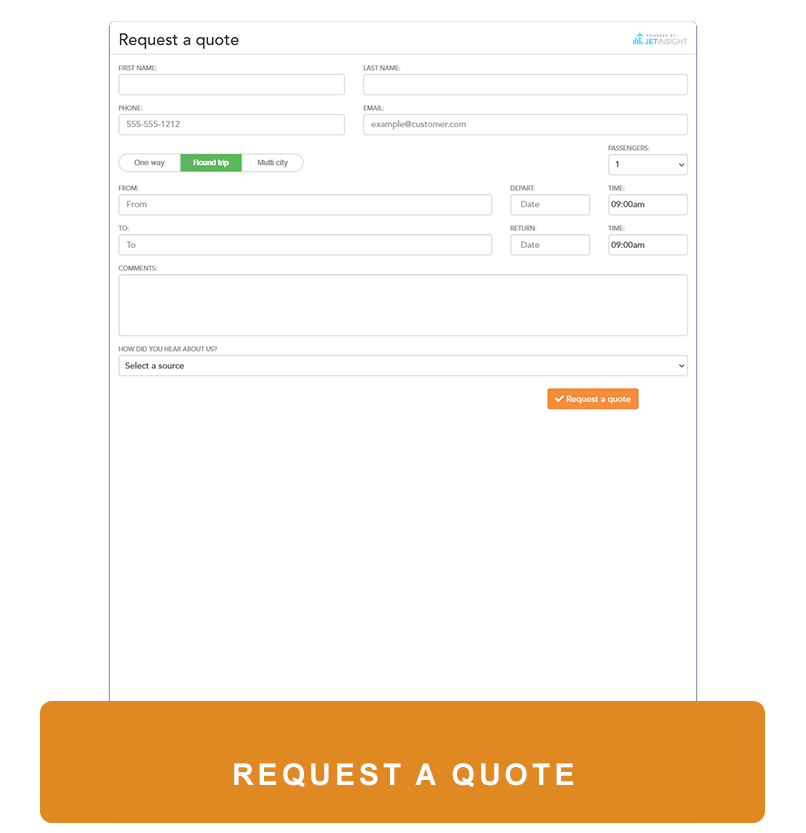 Our professional staff is ready to assist you in booking your private jet or turbo-charged propeller charter aircraft. Let's start with some basic information to get you going.
You can also reach us by phone, text and email.
Email: info@nobleaircharter.com