Private Jet to Los Angeles
Los Angeles, city, Seat of Los Angeles county, southern California, U.S. It is the second-most populous city and metropolitan area (after New York City) in the United States. The city sprawls across a broad coastal plain situated between mountains and the Pacific Ocean; the much larger Los Angeles County, which encompasses the city, contains some 90 other incorporated cities, including Beverly Hills, Pasadena, and Long Beach. The county also encompasses two of the Channel Islands, Santa Catalina, and San Clemente; Mount San Antonio, familiarly known as Mount Baldy or Old Baldy, 10,046 feet (3,062 meters) high; more than 900 square miles (2,330 square km) of the desert; and 75 miles (120 km) of seacoast.
Since the city and the county are interwoven geographically, culturally, and economically, any consideration of Los Angeles must, to some degree, involve both entities. Population density around the metropolitan area varies greatly—as low as one person per square mile in mountainous areas and as high as 50,000 per square mile near downtown Los Angeles.
Los Angeles, the heart of southern California, became a world-class city very recently. At the start of the 20th century, it was considered merely "a large village." This ascendancy is all the more remarkable considering that the city originally lacked some of the essential building blocks associated with cityhood, such as a natural harbour. Yet it overcame natural deficiencies and established itself as an important center of commerce, agriculture, tourism, and industry. For more than a century it has been indelibly associated with a benign climate, extensive leisure, and outdoor recreation, as well as the special aura of celebrity associated with Hollywood. The lifestyle of Los Angeles residents (who are called Angelenos) relies on the automobile, idealizes the single-family dwelling, and favors informality. With notable exceptions, the skyline is primarily horizontal rather than vertical. Los Angeles is a place of extraordinary ethnic and racial diversity, owing largely to immigration, and, like other world cities, it reflects a growing gap between rich and poor.
Downtown Los Angeles brings hundreds of thousands of Angelenos to its government and commercial offices and its cultural facilities. It has distinctive subareas—Civic Center, Music Center, Spring Street, Broadway, Chinatown, Olvera Street, Little Tokyo, Library Square, and the Staples Center. Although these areas are crowded during workdays, most are nearly deserted in the evenings. Bunker Hill has by and large the tallest, newest, and most-imposing buildings in the city. Downtown has never housed many factories and lost most of its major department stores, theatres, restaurants, and residences when the freeways were constructed; it also has relatively few residents. The wholesale marts for garments, jewelry, toys, furniture, flowers, and produce, however, are among the busiest enterprises anywhere in southern California.
Call us today to discuss your Los Angeles private jet charter needs and wishes. Let us show you the convenience and luxury that only private jet travel can offer.
Quotes for a Private Jet to Los Angeles
Noble Air can serve your  Los Angeles Private Jet Charter needs. We have private jets that can fly you from any part of the U.S. Airport to any airport in Los Angeles. Consider us when planning a private flight charter to LA.
Noble Air Charter has been serving the United States business and leisure travel needs for over 14 years with an experienced staff and a growing fleet of private jets and aircraft.
Tell us your needs and our booking agents will assist you in creating the perfect itinerary.
Book your Los Angeles Private Jet Charter with Noble Air Charter as well as any trips in the region.
We offer private jet charter and turbo-prop charters for clients globally.
Contact Us today for quotes on booking.
or a Twin-Propeller Aircraft?
Our recommendations for the ideal aircraft vary based on your specific travel requirements. Typically, for distances of 250 miles or less, we suggest a Twin-Engine Propeller aircraft. This type of aircraft is especially suitable for short runways. For longer distances and faster travel times, we suggest choosing a Jet.

Our team understands that every travel need is unique, and we're ready to provide customized solutions for your travel plans. Our fleet is diverse and equipped to cater to a range of requirements, and our pilots are highly trained professionals who prioritize your safety and comfort. No matter where your travel takes you, our company is dedicated to providing you with the highest level of service and convenience. We look forward to taking you to your destination with ease and comfort.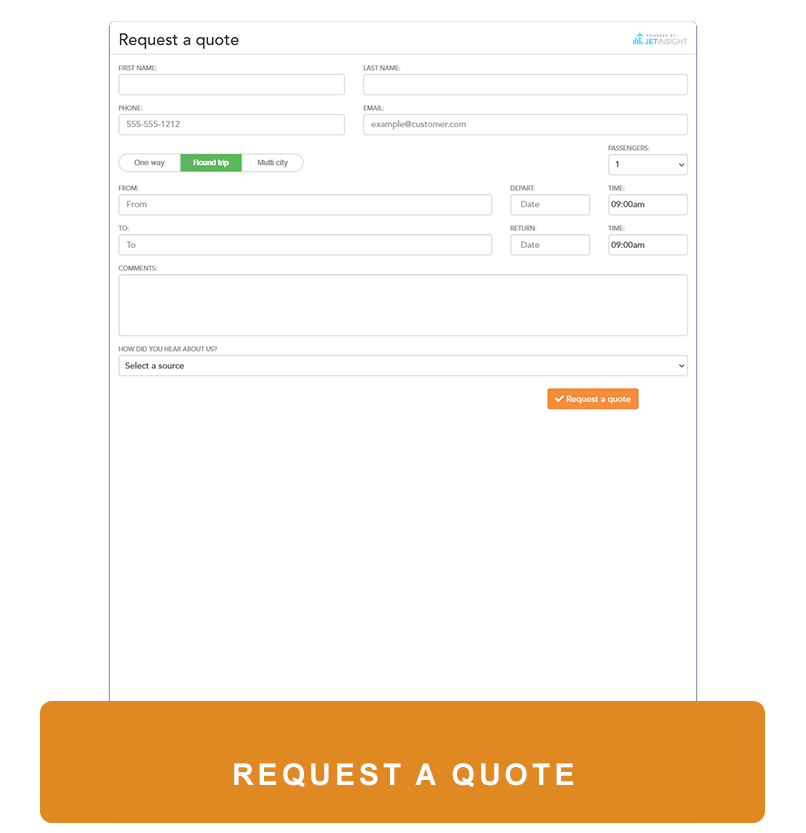 Our professional staff is ready to assist you in booking your private jet or turbo-charged propeller charter aircraft. Let's start with some basic information to get you going.
You can also reach us by phone, text and email.
Email: info@nobleaircharter.com