Marathon Florida Keys Airport
The Florida Keys Marathon International Airport. Airports codes being: IATA:MTH, ICAO:KMTH. It is a public airport located along US-1 in Marathon, Florida, USA. The airport covers 197 acres and has one runway that is 5,008 feet long.
There is not much else I can say about this airport, other than it's very convenient if staying locally at one of the resorts. Probably the best information can be found at Wikipedia if you are ever going on Jeopardy and need random facts in your brain.
I recently stayed at Tranquility Bay Resort not to far away. While I did not fly back, I thought to myself "this airport would be really convenient if I flew here" and avoided the long drive home.
I was tired and after a day of sun, fun and relaxation, the last thing you want to do is drive back all tired and hungry. But I had to bite the bullet and spent a few ours on the road as I drove home. Eventually, I'll be flying private. Ever since working at one of the best private air charter companies…Noble Air Charter. I'll one day be able to pull up next to the plane, step out like some mafia boss, and board the plane like a king going out for an excursion.
If you need to visit this airport and looking for private jet or private plane charter anywhere, then give us a call. I won't pick up, but one of our sales reps will. My job is to master SEO/SEM initiatives and make you read this far… if you did congratulations, I'm shocked as most people skim content. Maybe we meet in a distant galaxy far, far away or in the metaverse for a drink on your Yacht in the Keys listening to the Beach Boys.
Flights to Marathon Florida Keys Airport
Noble Air Charter can serve your flight needs to Marathon Florida Keys Airport and any flights in the Florida Keys.
We offer private jet charter and turbo-prop charters for clients globally.
Contact Us today for quotes on booking.
or a Twin-Propeller Aircraft?
Our recommendations for the ideal aircraft vary based on your specific travel requirements. Typically, for distances of 250 miles or less, we suggest a Twin-Engine Propeller aircraft. This type of aircraft is especially suitable for short runways. For longer distances and faster travel times, we suggest choosing a Jet.

Our team understands that every travel need is unique, and we're ready to provide customized solutions for your travel plans. Our fleet is diverse and equipped to cater to a range of requirements, and our pilots are highly trained professionals who prioritize your safety and comfort. No matter where your travel takes you, our company is dedicated to providing you with the highest level of service and convenience. We look forward to taking you to your destination with ease and comfort.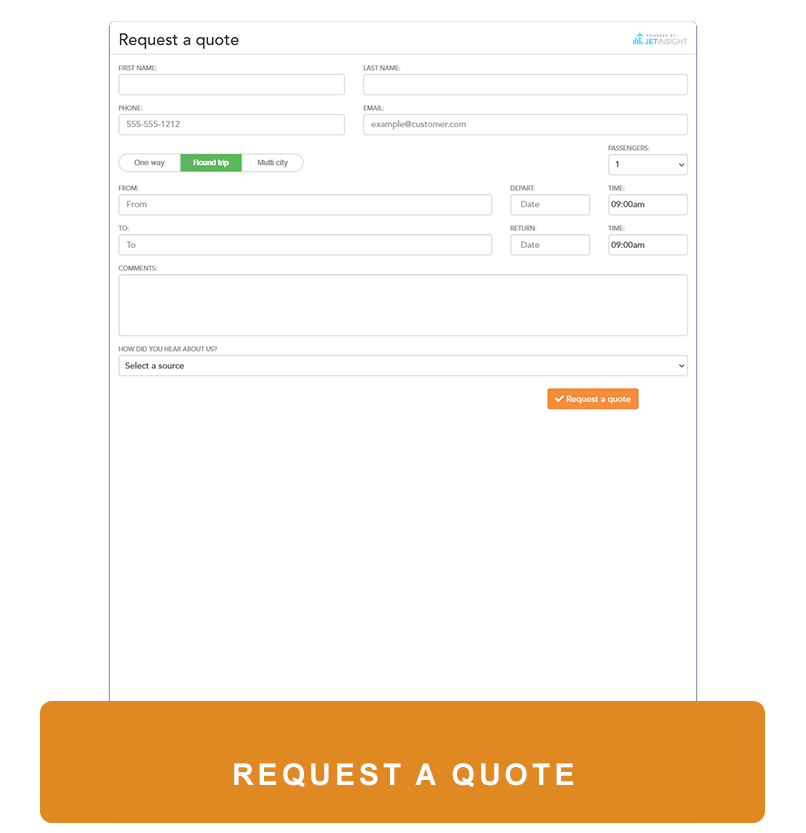 Our professional staff is ready to assist you in booking your private jet or turbo-charged propeller charter aircraft. Let's start with some basic information to get you going.
You can also reach us by phone, text and email.
Email: info@nobleaircharter.com