Mexico Private Jet Charter
A magical place where you will find history, routes, gastronomy among many other things about Mexico, It's cultural diversity, tropical settings, relatively low prices, and easy accessibility, Mexico exerts a strong attraction on U.S. tourists, who constitute the majority of visitors to the country. Tourists once traveled mainly to Mexico City and the surrounding colonial towns of the Mesa Central, as well as to the monumental ruins of Teotihuacán, just northeast of Mexico City. Although Mexico City is still a major destination for visitors, its reputation has been sullied by social and environmental problems, notably high levels of air pollution and crime. Tourists also still flock to the beaches of the world-famous resorts of Acapulco, Puerto Vallarta, Ixtapa-Zihuatanejo, Mazatlán, and Puerto Escondido. But Cancún and Cozumel (along the eastern shore of the Yucatán Peninsula) and Cabo San Lucas (of southern Baja California Sur) have become even more attractive to international travelers since the 1960s as a result of the construction of new hotels, airports, and other facilities. Cancún now attracts more international visitors per year than Mexico City. Among the more-visited Mayan ruins are Chichén Itzá, Tulum, Uxmal, and the area of ruins and coral reefs called the "Riviera Maya," to the south of Cancún.
cuisine varies greatly by region but depends heavily on an ancient trinity of staples: corn (maize), beans—which provide an excellent source of protein—and squash. Rice is another staple usually served side by side with beans. In addition, Mexicans tend to make liberal use of avocados (often in the form of guacamole), chili peppers, amaranth, tomatoes, papayas, potatoes, lentils, plantains, and vanilla (a flavoring that is pre-Columbian in origin). Hot peppers (often served in a red or green sauce) and salt are the most-common condiments. Maize tortillas are often served on a plate alongside main dishes, and the smell of toasted or burned corn permeates many households. Dairy products and red meat—often in the form of fried fast foods—form a small part of the diet of most poor people but contribute to a high incidence of heart disease and diabetes among the middle classes and elites. However, even poor Mexicans have begun consuming portions of processed foods that have arrived in the form of cheap imports.
Popular dishes vary by region and individual circumstances, but some of the more widely enjoyed foods include tortillas (flat bread wraps made from wheat or maize flour), enchiladas, cornmeal tamales (cooked within corn husks or banana leaves), burritos, soft-shell tacos, tortas (sandwiches of chicken, pork, or cheese and vegetables enclosed in a hard roll), stuffed chili peppers, and quesadillas (tortillas filled with soft cheese and meat). Other favorites are soups and spicy stews such as menudo (made from beef tripe and fresh vegetables) and pozole (stewed hominy and pork). Seafood dishes such as pulpo (octopus), chilpachole (spicy crab soup), and ceviche (seafood marinated in lime or lemon juice) are more popular in coastal and lacustrine areas. In Oaxaca and a few other states, fried and spiced chapulines (grasshoppers) are considered a delicacy. A favorite among the Nahua Indians is huitlacoche (corn fungus) served within fat-fried quesadillas.
Mexico's largest forests are in the tropical east and south. It is estimated that nearly two-thirds of the country was covered by forests in the mid-1500s, but indiscriminate exploitation has decimated this resource. Though conservation is practiced in some of the pine forests in the northern Sierra Madre Occidental, logging has heavily damaged some areas, and farmers in the Gulf Coast region and elsewhere continue to reduce rainforests with slash-and-burn methods and expanding pastures. The tropical forests of the south and east yield a wide variety of valuable products, including hardwoods, such as oaks and mahogany, and an assortment of fragrant woods, such as cedar and rosewood. In addition, the rainforests of Chiapas and the southern Yucatán contain sapodilla trees, which are the source for chicle, the latex traditionally used to make chewing gum (though most commercial varieties of gum are now manufactured with synthetic latex). Softwoods are found in the Sierra Madre Oriental and the Sierra Madre Occidental above 6,000 feet (1,800 metres). Stands of ponderosa, lodgepole, and other pines are especially well developed in the Sierra Madre Occidental, especially in the states of Chihuahua and Durango.
Call us today to discuss your Mexico private jet charter needs and wishes. Let us show you the convenience and luxury that only private jet travel can offer.
Airports In Mexico
Acapulco Guerrero MMAA ACA General Juan N. Álvarez International Airport
Aguascalientes Aguascalientes MMAS AGU Lic. Jesús Terán Peredo International Airport
Agualeguas Nuevo León MMAL Agualeguas National Airport
Álamos Sonora XAL Álamos National Airport
Apatzingán Michoacán MMAG AZG Pablo L Sidar National Airport
Atizapán de Zaragoza State of Mexico MMJC AZP Jorge Jiménez Cantú National Airport
Cabo San Lucas Baja California Sur MMSL Cabo San Lucas International Airport
Campeche Campeche MMCP CPE Ing. Alberto Acuña Ongay International Airport
Cananea Sonora MMCA CNA Cananea National Airport
Cancún Quintana Roo MMUN CUN Cancún International Airport
Cedros Island Baja California MMCD Isla de Cedros Airport
Celaya Guanajuato MMCY CYW Captain Rogelio Castillo National Airport
Chetumal Quintana Roo MMCM CTM Chetumal International Airport
Chichen Itza Yucatán MMCT CZA Chichen Itza International Airport
Chihuahua Chihuahua MMCU CUU General Roberto Fierro Villalobos International Airport
Chilpancingo Guerrero MMCH Chilpancingo National Airport
Ciudad Acuña Coahuila MMCC ACN Ciudad Acuña International Airport
Ciudad Altamirano Guerrero Santa Barbara Regional Airport
Ciudad Constitución Baja California Sur MMDA CUA Ciudad Constitución Airport
Ciudad del Carmen Campeche MMCE CME Ciudad del Carmen International Airport
Ciudad Mante Tamaulipas MMDM MMC Ciudad Mante National Airport
Ciudad Juárez Chihuahua MMCS CJS Abraham González International Airport
Ciudad Obregón Sonora MMCN CEN Ciudad Obregón International Airport
Ciudad Victoria Tamaulipas MMCV CVM General Pedro J. Méndez International Airport
Colima Colima MMIA CLQ Lic. Miguel de la Madrid Airport
Comitán Chiapas MMCO CJT Copalar Air Force Base Num 17
Cozumel Quintana Roo MMCZ CZM Cozumel International Airport
Cuernavaca Morelos MMCB CVJ General Mariano Matamoros Airport
Culiacán Sinaloa MMCL CUL Federal de Bachigualato International Airport
Cuajinicuilapa Guerrero Aeropuerto Nacional Ta Lo De Soto
Durango Durango MMDO DGO General Guadalupe Victoria International Airport
Ensenada Baja California MMES ESE El Ciprés Air Force Base Num 3
Guadalajara Jalisco MMGL GDL Don Miguel Hidalgo y Costilla International Airport
Guasave Sinaloa Campo Cuatro Milpas Airport
Guaymas Sonora MMGM GYM General José María Yáñez International Airport
Guerrero Negro Baja California Sur MMGR GUB Guerrero Negro Airport
Hermosillo Sonora MMHO HMO General Ignacio Pesqueira Garcia International Airport
Huatulco Oaxaca MMBT HUX Bahías de Huatulco International Airport
Guadalupe Island Baja California MMGD Isla Guadalupe Airport
Isla María Madre Nayarit Isla María Madre Naval Air Station
Isla Mujeres Quintana Roo MMIM ISJ Isla Mujeres National Airport
Ixtapa-Zihuatanejo Guerrero MMZH ZIH Ixtapa-Zihuatanejo International Airport
Ixtepec Oaxaca MMIT IZT Ixtepec Airport
La Paz Baja California Sur MMLP LAP Manuel Márquez de León International Airport
Lagos de Moreno Jalisco LOM Francisco Primo de Verdad National Airport
Lázaro Cárdenas Michoacán MMLC LZC Lázaro Cárdenas Airport
León Guanajuato MMLO BJX Del Bajío International Airport
Loreto Baja California Sur MMLT LTO Loreto International Airport
Los Cabos Baja California Sur MMSD SJD Los Cabos International Airport
Los Mochis Sinaloa MMLM LMM Federal del Valle del Fuerte International Airport
Manzanillo Colima MMZO ZLO Playa de Oro International Airport
Matamoros Tamaulipas MMMA MAM General Servando Canales International Airport
Matehuala San Luis Potosí Engineer Manuel Moreno Torres National Airport
Mazatlán Sinaloa MMMZ MZT General Rafael Buelna International Airport
Mérida Yucatán MMMD MID Manuel Crescencio Rejón International Airport
Mexicali Baja California MMML MXL General Rodolfo Sánchez Taboada International Airport
Mexico City Distrito Federal MMMX MEX Aeropuerto Internacional Benito Juárez
Minatitlán Veracruz MMMT MTT Minatitlán/Coatzacoalcos National Airport
Monclova Coahuila MMMV LOV Venustiano Carranza International Airport
Monterrey Nuevo León MMMY MTY General Mariano Escobedo International Airport
Monterrey Nuevo León MMAN NTR Del Norte International Airport
Morelia Michoacán MMMM MLM General Francisco J. Mujica International Airport
Mulegé Baja California Sur MMMG MUG Mulegé National Airport
Navojoa Sonora MMNV NVJ Navojoa Airport
Nogales Sonora MMNG NOG Nogales International Airport
Nuevo Casas Grandes Chihuahua MMCG NCG Nuevo Casas Grandes Municipal Airport
Nuevo Laredo Tamaulipas MMNL NLD Quetzalcóatl International Airport
Oaxaca Oaxaca MMOX OAX Xoxocotlán International Airport
Pachuca Hidalgo MMPC Ingeniero Juan Guillermo Villasana National Airport
Palenque Chiapas MMPQ PQM Palenque International Airport
Pie de la Cuesta Guerrero MMPD León Gonzalez Pie de la Cuesta Air Force Base Num 7
Piedras Negras Coahuila MMPG PDS Piedras Negras International Airport
Playa del Carmen Quintana Roo PCM Playa del Carmen National Airport
Poza Rica Veracruz MMPA PAZ El Tajín National Airport
Puebla Puebla MMPB PBC Hermanos Serdán International Airport
Puerto Escondido Oaxaca MMPS PXM Puerto Escondido International Airport
Puerto Peñasco Sonora MMPE PPE Puerto Peñasco International Airport
Puerto Vallarta Jalisco MMPR PVR Lic. Gustavo Díaz Ordaz International Airport
Querétaro Querétaro MMQT QRO Querétaro International Airport
Querétaro Querétaro Ing. Fernando Espinoza Gutiérrez International Airport (closed)
Reynosa Tamaulipas MMRX REX General Lucio Blanco International Airport
Salina Cruz Oaxaca MMSZ SCX Salina Cruz Naval Air Station
Saltillo Coahuila MMIO SLW Plan de Guadalupe International Airport
San Cristóbal de las Casas Chiapas MMSC SZT San Cristóbal de las Casas National Airport (closed)
San Felipe Baja California MMSF SFH San Felipe International Airport
San Luis Potosí San Luis Potosí MMSP SLP Ponciano Arriaga International Airport
San Luis Río Colorado Sonora UAC San Luis Río Colorado Airport
Zumpango State of Mexico MMSM NLU Santa Lucía Air Force Base Num 1
Santa Rosalía Baja California Sur SRL Palo Verde Airport
Tampico Tamaulipas MMTM TAM General Francisco Javier Mina International Airport
Tamuín San Luis Potosí MMTN TSL Tamuín National Airport
Tapachula Chiapas MMTP TAP Tapachula International Airport
Teacapan Sinaloa Teacapan Naval Air Station
Tehuacán Puebla MMHC TCN Tehuacán National Airport
Tepic Nayarit MMEP TPQ Amado Nervo National Airport
Tijuana Baja California MMTJ TIJ General Abelardo L. Rodríguez International Airport
Tizimín Yucatán TZM Cupul National Airport
Toluca State of Mexico MMTO TLC Lic. Adolfo López Mateos International Airport
Torreón Coahuila MMTC TRC Francisco Sarabia International Airport
Tulum Quintana Roo MMTU TUY Tulum Naval Air Station
Tuxpan Jalisco MMTX Zapotiltic National Airport
Tuxtla Gutiérrez Chiapas MMTG TGZ Angel Albino Corzo International Airport
Tuxtla Gutiérrez Chiapas MMTB TGM Terán Air Force Base Num 6
Uruapan Michoacán MMPN UPN Uruapan International Airport
Veracruz Veracruz MMVR VER General Heriberto Jara International Airport
Villahermosa Tabasco MMVA VSA Carlos Rovirosa Pérez International Airport
Xalapa Veracruz MMJA JAL El Lencero Airport
Zacatecas Zacatecas MMZC ZCL General Leobardo C. Ruiz International Airport
Zamora Michoacán MMZM ZMM Zamora National Airport
Zapopan Jalisco MMZP Zapopan Air Force Base Num 5
Mexico Private Jet Charter popular routes
Private Jet from New York to Cancun
Private Jet from Boston to Mexico City
Charter Flights from Chicago to  Monterrey
Private Plane Charter from Orlando to Guadalajara 
Private Jet Charter from Dallas to Puerto Vallarta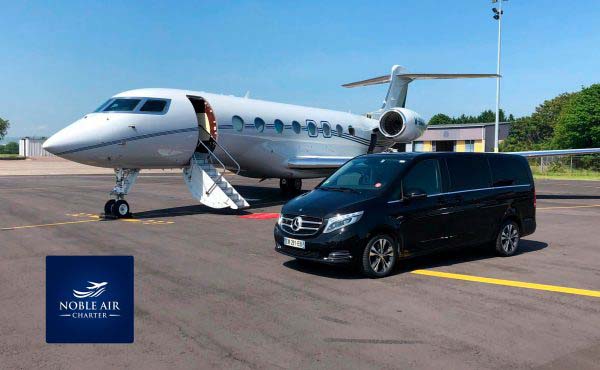 or a Twin-Propeller Aircraft?
Our recommendations for the ideal aircraft vary based on your specific travel requirements. Typically, for distances of 250 miles or less, we suggest a Twin-Engine Propeller aircraft. This type of aircraft is especially suitable for short runways. For longer distances and faster travel times, we suggest choosing a Jet.

Our team understands that every travel need is unique, and we're ready to provide customized solutions for your travel plans. Our fleet is diverse and equipped to cater to a range of requirements, and our pilots are highly trained professionals who prioritize your safety and comfort. No matter where your travel takes you, our company is dedicated to providing you with the highest level of service and convenience. We look forward to taking you to your destination with ease and comfort.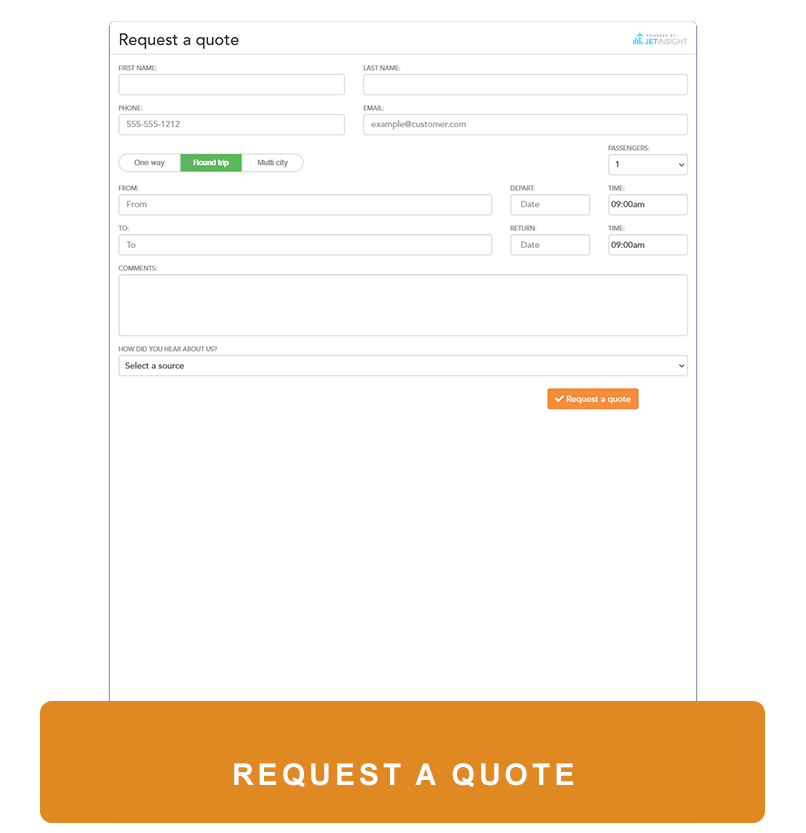 Our professional staff is ready to assist you in booking your private jet or turbo-charged propeller charter aircraft. Let's start with some basic information to get you going.
You can also reach us by phone, text and email.
Email: info@nobleaircharter.com