Santa Barbara Private Jet Charter
Nestled between the shrub-covered slopes of the Santa Ynez Mountains and the clear blue shores of the Pacific Ocean, Santa Barbara is California at its best. Mission Santa Barbara is an example of 18th-century religious architecture, boasting beautiful grounds and a wonderfully detailed interior. Work up an appetite with a walk through Shoreline Park, then dine above the water on Stearns Wharf. Fig trees, parks, waterfalls, and botanical gardens round out Santa Barbara's natural beauty.
Things to do in Santa Barbara, whether you want to relax on the beach, stroll through the city's eclectic shops and boutiques, or figure out which winery you're going to try first. You'll find plenty of activities and attractions, from total relaxation to thrilling adventures. We're here to help. Take a look at everything Santa Barbara has to offer, from art and culture to outdoor recreation, an unbeatable food and wine scene with hundreds of restaurants to choose from as well as dozens of vibrant events. With so many opportunities to make this an unforgettable trip like sea kayaking through caves in the Channel Islands, a painting class that walks you through the art of watercolors and wine, a relaxing visit to the underground salt caves, and world class wine tasting.
Call us today to discuss your Santa Barbara private jet charter needs and wishes. Let us show you the convenience and luxury that only private jet travel can offer.
Airports In Santa Barbara
Santa Barbara Municipal Airport
For those who are flying in, Santa Barbara Municipal Airport (SBA) is a short 10-mile drive from downtown Santa Barbara offering a flyer-friendly experience with ease of access from terminal to gate.
Popular Santa Barbara Private Jet Charter Routes
Private Jet from New York to Santa Barbara
Private Jet from Boston to Santa Barbara
Charter Flights from Chicago to Santa Barbara
Private Plane Charter from Orlando to Santa Barbara
Private Jet Charter from Dallas to Santa Barbara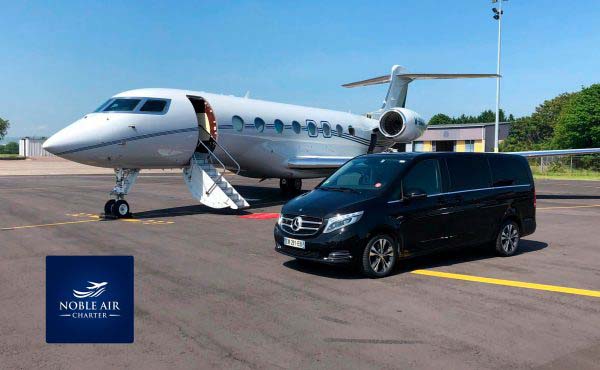 Private Jet Charters & Private Twin-Engine Turbo-Charged Prop Charters
Hassle Free
Avoid traffic and the hassle of flying out of major metropolitan airports.
No Lines
Say farewell to long lines, TSA and arriving two hours early for flights.
Convenience
Bring everyone, fly with business associates, or your family…and your pet!
Go Anywhere
Plan a trip anywhere with Noble Air Charter. We'll help book travel globally.
Begin Your Booking
Begin Your Booking
Our professional staff is ready to assist you in booking your private jet or turbo-charged propeller charter aircraft. Let's start with some basic information to get you going. 
You can also reach us by phone, text and email.
Office: (305) 685-9634
Fax: (305) 688-7588
Email: info@nobleaircharter.com