Vuelos privados a la Ciudad de Panama
La Ciudad de Panamá es la capital más cosmopolita de Centroamérica encontrarás tesoros como hermosas playas e islas de ensueño. La capital de Panamá es en realidad 3 ciudades en una: un distrito histórico, un distrito reconstruido y áreas muy modernas. Este vibrante y dinámico centro urbano es una ciudad verdaderamente cosmopolita en medio del trópico, así que prepárate para ver enormes rascacielos rodeados de una naturaleza impresionante. Y no olvidemos que en la Ciudad de Panamá se encuentra una de las 7 maravillas del mundo creadas por el hombre: el famoso canal de Panamá. Gracias a este y al aeropuerto mejor conectado de América Latina, la Ciudad de Panamá realmente ayuda a mantener conectado al mundo.
Explora el Casco Antiguo es el distrito histórico de la ciudad y alberga algunos de los mejores hoteles y bares con terraza. También visita algunos de los mejores restaurantes de la ciudad. Como ciudad creativa de la UNESCO en el rubro gastronómico, la ciudad de Panamá alberga una escena vibrante y diversa, dirigida por chefs de primera categoría.
Si quieres contemplar las tres ciudades a la vez (la antigua, la reconstruida y la moderna) desde 199 metros de altura, camina hasta el punto más alto de la ciudad: el Cerro Ancón es un mirador donde podrás ver gran parte de la ciudad . También debes visitar el Parque Natural Metropolitano, una verdadera selva tropical en medio de la zona urbana, convirtiendo a la Ciudad de Panamá en la única capital nacional del mundo con una selva tropical dentro de los límites de la ciudad. Y, por supuesto, debes conocer el mundialmente famoso canal de Panamá: obsérvalo desde las esclusas de Miraflores, a pocos minutos del corazón de la Ciudad de Panamá.
Vuelos privados a la Ciudad de Panama & a cualquier parte de mundo!
Noble Air Charter puede satisfacer sus necesidades de sus vuelos privados a la Ciudad de Panama, así como cualquier viaje en la región.
Ofrecemos vuelos en jet privados y en turbohélices para clientes de todo el mundo.
Contáctenos hoy para cotizaciones de reserva.
or a Twin-Propeller Aircraft?
Our recommendations for the ideal aircraft vary based on your specific travel requirements. Typically, for distances of 250 miles or less, we suggest a Twin-Engine Propeller aircraft. This type of aircraft is especially suitable for short runways. For longer distances and faster travel times, we suggest choosing a Jet.

Our team understands that every travel need is unique, and we're ready to provide customized solutions for your travel plans. Our fleet is diverse and equipped to cater to a range of requirements, and our pilots are highly trained professionals who prioritize your safety and comfort. No matter where your travel takes you, our company is dedicated to providing you with the highest level of service and convenience. We look forward to taking you to your destination with ease and comfort.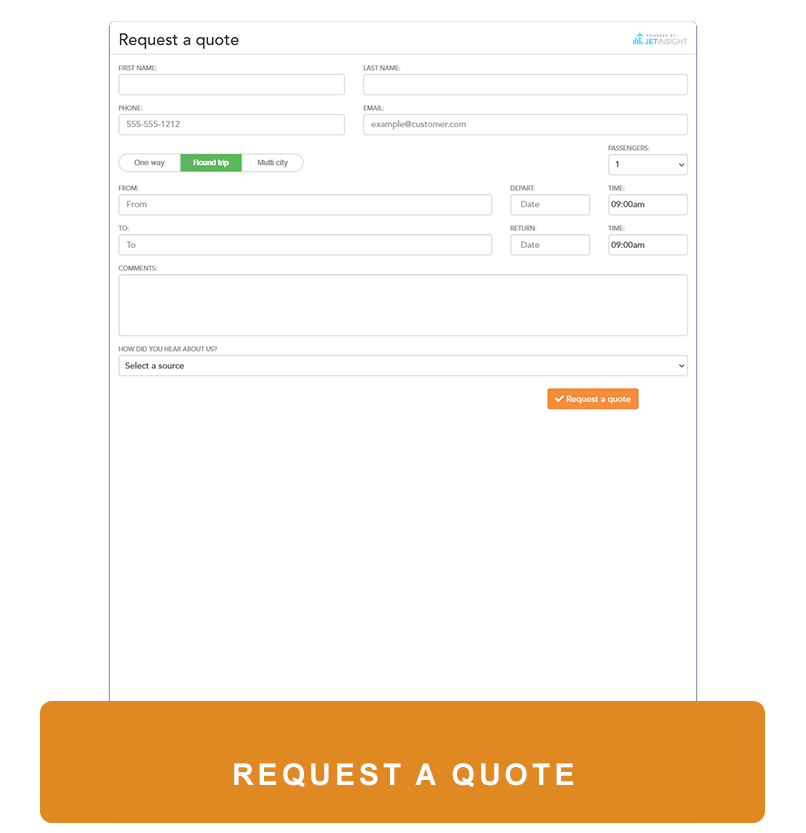 Our professional staff is ready to assist you in booking your private jet or turbo-charged propeller charter aircraft. Let's start with some basic information to get you going.
You can also reach us by phone, text and email.
Email: info@nobleaircharter.com