What is a FBO?
Wondering what is a FBO? Basically, it's the primary provider of support services to general aviation operators at a public airport and is on land leased from the airport. In smaller airports serving general aviation in remote or small communities, the town itself may provide air services and operate the FBO facility. Most FBOs doing business at airports of high to moderate traffic volume are commercial organizations and are private or publicly held companies.
Within the United States, the Federal Aviation Administration (FAA) regulates some activities that may comprise an FBO such as the authorization or repair stations, flight training, and air taxi/air carrier services, but the overarching term "FBO" has no regulatory standards through the federal government. That said, the FAA has defined an FBO as "a commercial entity providing aeronautical services such as fueling, maintenance, storage, ground and flight instruction, etc., to the public.
Though the term fixed-base operator started in the United States, the term has become more common in the international aviation industry. The term (FBO) has not been officially defined as an international standard yet.  International Civil Aviation Organization (ICAO) publications such as Implementing the Global Aviation Safety Roadmap have been using the term leading to what may be an internationally recognized term globally.
What is a FBO? – Types of Services Rendered
Fixed-base operators provide a wide range of activities which may include:
Sale of aviation fuel for aircrafts
Line maintenance services for general aviation aircraft
Air taxi and air charter flights
Scheduled or nonscheduled air carrier services
Pilot training
Aircraft rental and sightseeing tours
Aircraft sales and service
Aircraft storage (tie-down or hangar space)
Repair and aircraft maintenance
Sale of aircraft parts
Aerial photography
Crop dusting locally
Aerial advertising and aerial survey needs
Pssst… think of us when you need a private jet or plane charter 😉
or a Twin-Propeller Aircraft?
Our recommendations for the ideal aircraft vary based on your specific travel requirements. Typically, for distances of 250 miles or less, we suggest a Twin-Engine Propeller aircraft. This type of aircraft is especially suitable for short runways. For longer distances and faster travel times, we suggest choosing a Jet.

Our team understands that every travel need is unique, and we're ready to provide customized solutions for your travel plans. Our fleet is diverse and equipped to cater to a range of requirements, and our pilots are highly trained professionals who prioritize your safety and comfort. No matter where your travel takes you, our company is dedicated to providing you with the highest level of service and convenience. We look forward to taking you to your destination with ease and comfort.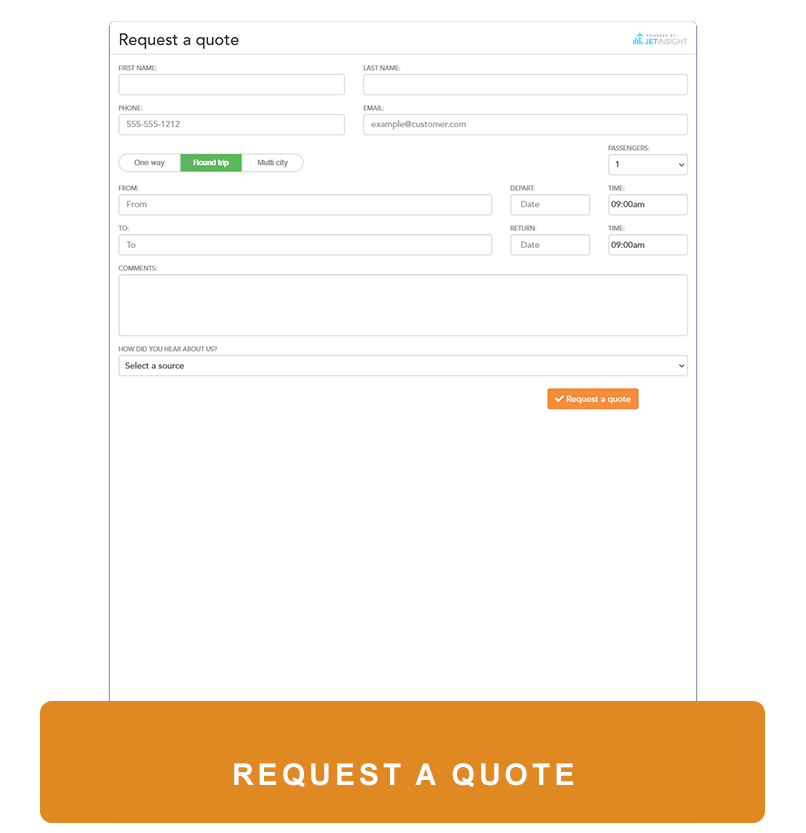 Our professional staff is ready to assist you in booking your private jet or turbo-charged propeller charter aircraft. Let's start with some basic information to get you going.
You can also reach us by phone, text and email.
Email: info@nobleaircharter.com