There's only one place in North America where you can swim with manatees – Crystal River, Florida.
Manatees, also known as sea cows, are endangered and protected creatures, weighing more than 1000 pounds. These gentle giants eat only aquatic plants and are not harmful to humans. When the waters in the Gulf of Mexico cool off – November through April – manatees migrate to Crystal River where the water temperature remains at 72ᵒ year round.
Meet these curious, docile animals by remaining perfectly still and letting them come to you.
There's more to your dive than the manatees. In fact, Crystal River offers some of the best snorkeling in Florida. Divers can experience dozens of freshwater springs that boil from the underground aquifer. The salty mix of Gulf waters create a marine environment that is nothing short of spectacular. You are just as likely to find tarpon, snapper and redfish as you are to see largemouth bass and garfish.
Your Underwater Dream Comes True
You could spend 4.5 hours driving the 263 miles from Miami to Crystal Springs National Wildlife Refuge (and then do it all again going back) or you could live your underwater dream by calling Noble Air Charter.
Manatee season in Crystal Springs is happening right now, so pack your swim suit and dive gear and contact us. Your unique dive experience begins when you call on Noble Air Charter.
Convenient and Surprisingly Affordable
Our fleet of jets* and turbo-props departs from Miami's Opa-Locka Executive Airport whenever you are ready to go. We specialize in travel within Florida and the Bahamas 365 days a year.
No long TSA lines – it's just you and your traveling companions, including your pet.
No extra baggage fees.
No delays.
Experienced staff mean safety for you.
Our staff will recommend the most cost-efficient aircraft for your trip.
Save time and money with the Premier Card Program.
Your Crystal River dive vacation is just a click away. Contact Noble Air for Your Affordable Private Charter Flight! Book Now!
*Noble Air Charter is a transparent private jet charter brokerage acting as Agent for Client and providing market analysis and aid in securing air charters worldwide that are operated by FAA certified, Part 135, DOT registered carriers or a foreign equivalent safety authority. Operators qualified to provide Noble Air Charter and our clients' aircraft charters maintain operational control of the flight at all times while exceeding all FAA safety standards and requirements. Noble Air Charter does not own or operate their own Jet aircraft.
or a Twin-Propeller Aircraft?
Our recommendations for the ideal aircraft vary based on your specific travel requirements. Typically, for distances of 250 miles or less, we suggest a Twin-Engine Propeller aircraft. This type of aircraft is especially suitable for short runways. For longer distances and faster travel times, we suggest choosing a Jet.

Our team understands that every travel need is unique, and we're ready to provide customized solutions for your travel plans. Our fleet is diverse and equipped to cater to a range of requirements, and our pilots are highly trained professionals who prioritize your safety and comfort. No matter where your travel takes you, our company is dedicated to providing you with the highest level of service and convenience. We look forward to taking you to your destination with ease and comfort.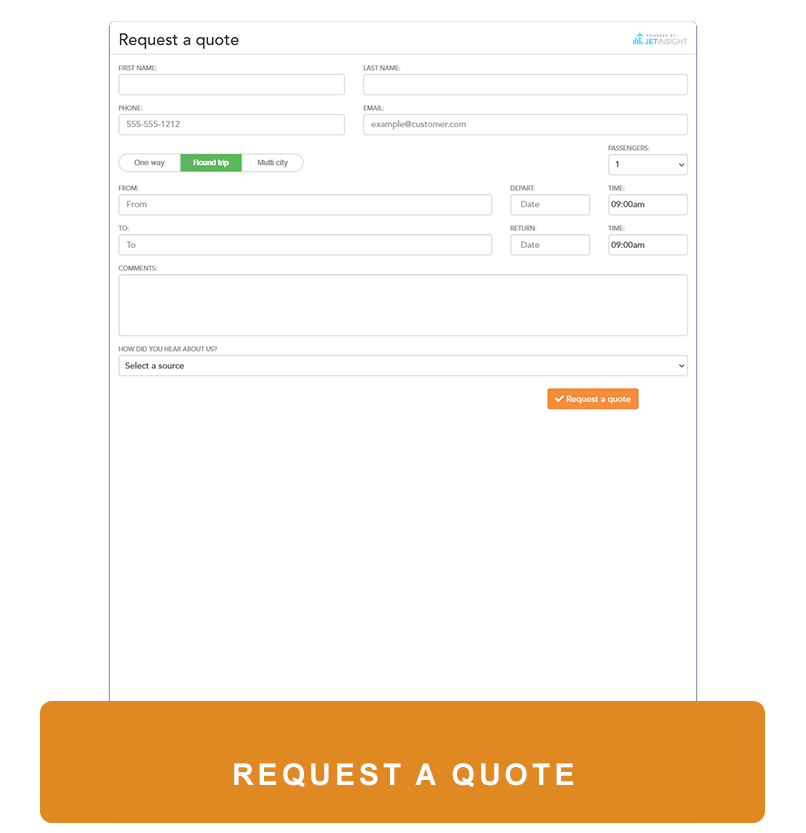 Our professional staff is ready to assist you in booking your private jet or turbo-charged propeller charter aircraft. Let's start with some basic information to get you going.
You can also reach us by phone, text and email.
Email: info@nobleaircharter.com