Beautiful Boca Grande on Gasparilla Island, is the home of white sugar-sand beaches, swaying palm trees, and privacy for its elite residents. Few automobiles sully Boca Grande's pristine roads – they are allowed on only two streets. Golf carts are the primary mode of transportation.
Boca Grande has a long and storied history, starting with the Native American Calusa people who lived there 5000 years ago, right up through the pirate rum smuggler José Gaspar who gave the island its name. Today the tropical beauty of Gasparilla Island is the ideal backdrop for films like Denzel Washington's Out of Time and celebrity weddings.
And of course, tarpon fishing in Boca Grande.
You could get to this island paradise by commercial flight, but the closest airport is in Coral Creek – an hour away. And another hour to get back there later. Or, you could do what knowledgeable fishermen and adventure-seekers do…
Book a Flight with Noble Air Charter
Our reliable and agile Cessna Turboprops can land where commercial aircraft cannot. We get you right where you want to be and we do it in style. Why arrive at an airport hours early, only to have to wait in line for TSA, and 'dine' on pretzels and soda pop? With Noble Air Charter you have the advantages of…
NO long lines.
NO delays.
NO extra baggage fees.
Enjoy comfort, convenience, and luxurious personal service.
Highest safety standards.
Ask us about discounted block time packages – ideal for those spur of the minute getaways.
Boca Grande is Calling You
No one knows why the tarpon flock to this tiny island on the southwest Gulf Coast of Florida, but they do. You should too! And when you get there, take a few tips from us…
Reel Intense Inshore Charters
Rated #1 of all 31 fishing tours in Boca Grande, with 5 star ratings from 233 reviewers. Captain Chris Slattery is a Southwest Florida charter fishing guide who brings his expertise to Boca Grande Tarpon Fishing and Inshore Charters in Boca Grande and surrounding areas. Captain Chris says, "My fishing experience in Boca Grande Pass and Englewood is unparalleled and since I have two young children of my own, I welcome a kid friendly fishing environment. FISH ON!"
The Pink Elephant
Have dinner at the Pink Elephant before flying back to Noble's home base at Opa-Locka Executive Airport. Enjoy seafoods, local favorites, and vegan dishes. Reviewers say, "Outstanding!"
Gasparilla Island Lighthouse
Gaze out at the mighty Gulf of Mexico and wonder how sailors navigated these emerald waters before lighthouses. With generous support, the Barrier Island Parks Society has restored the Gasparilla Island Lighthouse to its 1927 splendor and will preserve this legacy for future generations!
Call your friends! Round up the family!
Relax and refresh yourself with a fabulous fishing expedition to the Tarpon Capital of the World – Boca Grande. Our Turbo Props seat 7 people and there's plenty of room for all your gear. Surprisingly affordable, too!
or a Twin-Propeller Aircraft?
Our recommendations for the ideal aircraft vary based on your specific travel requirements. Typically, for distances of 250 miles or less, we suggest a Twin-Engine Propeller aircraft. This type of aircraft is especially suitable for short runways. For longer distances and faster travel times, we suggest choosing a Jet.

Our team understands that every travel need is unique, and we're ready to provide customized solutions for your travel plans. Our fleet is diverse and equipped to cater to a range of requirements, and our pilots are highly trained professionals who prioritize your safety and comfort. No matter where your travel takes you, our company is dedicated to providing you with the highest level of service and convenience. We look forward to taking you to your destination with ease and comfort.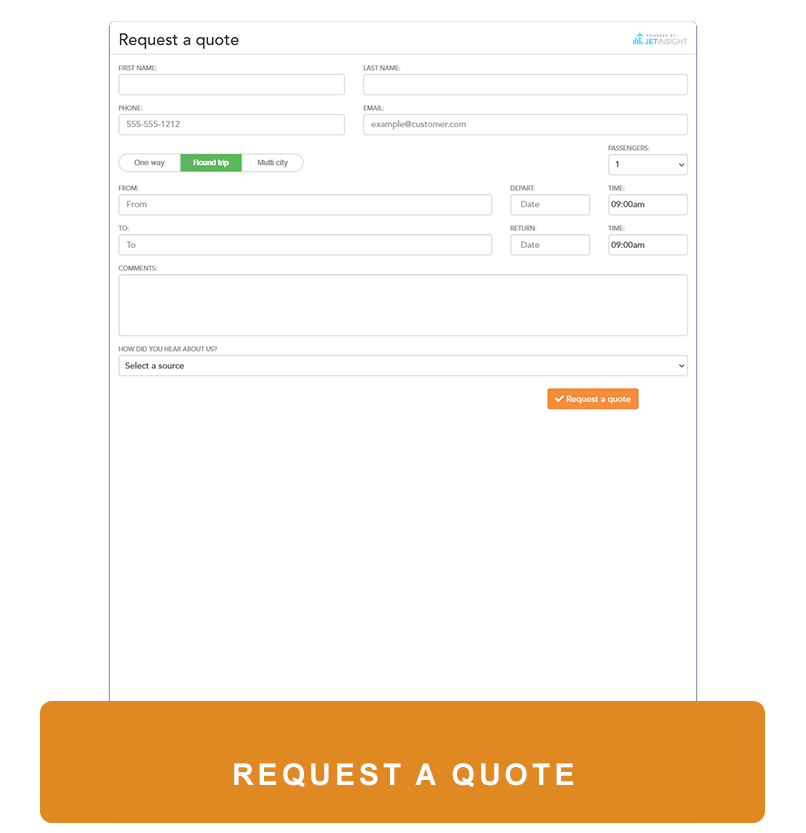 Our professional staff is ready to assist you in booking your private jet or turbo-charged propeller charter aircraft. Let's start with some basic information to get you going.
You can also reach us by phone, text and email.
Email: info@nobleaircharter.com