Range
1940 Nautical Miles
7 Passenger
Configuration
Online Booking
View Flight Quotes
Cessna Citation Excel – N646TX
Fly in our immaculately maintained and updated Cessna Excel Mid-Size private jet. Up to 7 passengers and a top speed of 498 miles an hour. It can travel up to 1940 nautical miles. It's ready to take you and your friends, family or associates anywhere needed.
The Excel is part of the Citation family. With the success of Cessna's high-end Citation VII, the manufacturer saw a market for an aircraft with the Citation X 's features but aimed at a more traditional market, where it would primarily compete with twin- turboprop aircraft.
Contact us for booking quotes and details.
Cessna Citation Excel Price
The Cessna Citation Excel costs will depend on itinerary factors. Quoting will include all the necessary fees when booking this aircraft. Depending on your itinerary, taxes, country fees, and other variables, repositions, crew stay etc., your quotes can vary based on needs. Contact us for details and how to fly in this magnificent aircraft.
Calculate Flight Times & Prices
"Enter Airport & Aircraft"
These are approximate costs we are seeing globally for this aircraft.
Time, Distance, Fuel, and other itinerary variables affect final costs.
Cessna Citation Excel Specifications
Below are some operating specifications for the Cessna Citation Excel.
Exterior
Exterior Height: 17 ft 2 in
Wing Span: 56 ft 4 in
Length: 52 ft 6 in
External Baggage: 80 cu ft
Cabin Volume: 422 cu ft
Internal Baggage: 10 cu ft
Max T/O Weight: 22000 Lb
Max Landing Weight: 18700 Lb
Operating Weight: 12500 Lb
Empty Weight: 12800 Lb
Fuel Capacity: 6740 lbs Lb
Payload W/Full Fuel: 960 Lb
Max Payload: 2500 Lb
or a Twin-Propeller Aircraft?
Our recommendations for the ideal aircraft vary based on your specific travel requirements. Typically, for distances of 250 miles or less, we suggest a Twin-Engine Propeller aircraft. This type of aircraft is especially suitable for short runways. For longer distances and faster travel times, we suggest choosing a Jet.

Our team understands that every travel need is unique, and we're ready to provide customized solutions for your travel plans. Our fleet is diverse and equipped to cater to a range of requirements, and our pilots are highly trained professionals who prioritize your safety and comfort. No matter where your travel takes you, our company is dedicated to providing you with the highest level of service and convenience. We look forward to taking you to your destination with ease and comfort.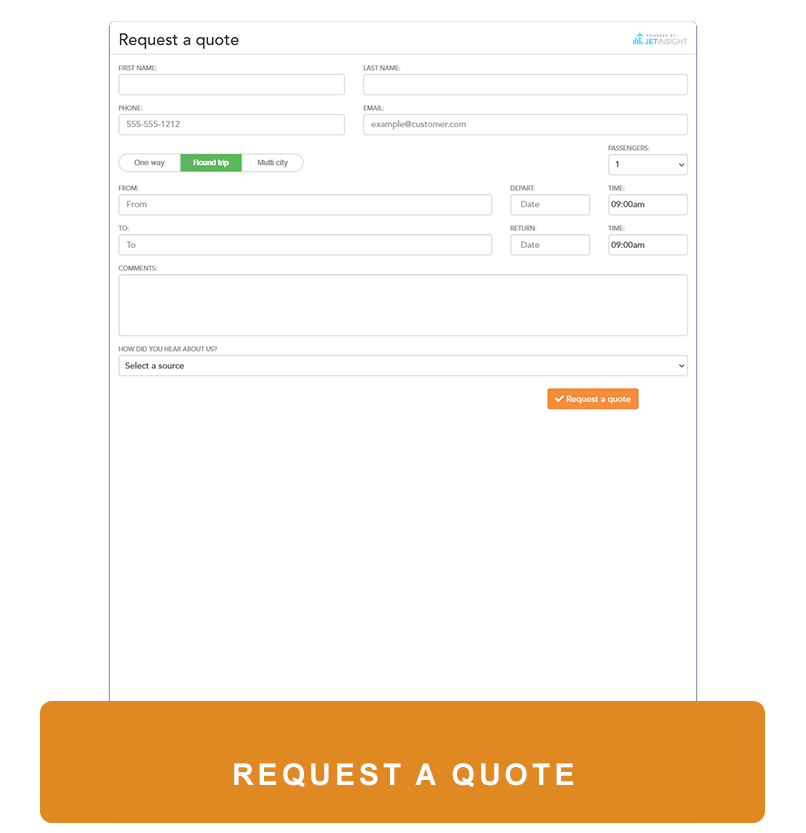 Our professional staff is ready to assist you in booking your private jet or turbo-charged propeller charter aircraft. Let's start with some basic information to get you going.
You can also reach us by phone, text and email.
Email: info@nobleaircharter.com