Ever see someone gliding along on something that looks like your grandpa's push mower? That's a Segway – a fun type of transportation that lets you cover more ground faster, avoid the perils of foot pain from walking, and it's completely quiet – you can talk to other folks and hear your guide.
Call Noble Air to charter a flight for business or pleasure to Pensacola. The weather is usually in the mid 70ᵒs in January, so you can even call us at the last minute because the weather looks especially good in P-Cola, and you'll be there in no time flat.
For People 100 – 260
That's your weight, not your age. And if you've never traveled by Segway before – don't worry. Your friendly guide will show you how to operate it and you'll be a gliding expert in less than 20 minutes. These technologically advanced, eco-friendly machines are intuitive and self-balancing. Once trained, you and your group will head out on the town to experience the sights and sounds of beautiful Pensacola beside the bay.
Want to try it first? Emerald Coast Tours offers a private training session for just 10 bucks. And if you sign up for any tour, you'll get an instant rebate of $5. Do it! It's easy!
Ring in the New Year with a Fun New Experience
Tired of being stuck in the house? An Emerald Coast Segway Tour of Pensacola is exactly what you need.
Historic Pensacola Segway Tour – The most popular tour showcases the fascinating city of Pensacola while gliding effortlessly through downtown. Visit numerous historical sites, landmarks, and monuments, including the Belmont-DeVilliers Neighborhood, Fort George, The Crowne Plaza Pensacola Grand Hotel, Aragon Neighborhood, Veteran's Memorial Park, Plaza de Luna, and the spot where Florida was officially handed over from the Spanish to the United States. Interesting and exhilarating!
Ghosts, Murders, and Mayhem Segway Tour – Glide through Downtown Pensacola's supernatural and dark side. Learn about the ghosts who wander at night through the old Red Light District, visit the site of hangings and murders that include a street car bombing, hear the tales of the Ghost Boy of Government Street or the bartender ghost of Seville Quarter. Visit the first drive-through funeral home in the country and hear how its owner met his demise. If you like the strange and spooky, this tour is for you!
Call Emerald Coast Tours at (850) 417-9292 to ask about these and many other tours, including The Land & Sea Package – Segway and Sailboat Tour.
Getting to Pensacola the Easy Way
You could drive to Pensacola from Miami and it will take you nearly 10 hours to do it. And the same again going back. You could take a commercial flight, be obliged to get to the airport 2 hours early, wait in a long TSA line, be charged for extra baggage, and be seated in a plane full of strangers. And then take a long cab ride from the airport to your destination.
Or you could do it the fast and easy way – just call Noble Air Charter
When you board your luxurious charter flight at Miami's Opa-Locka Executive Airport, you'll find comfort, convenience, and superior personal service. With Noble Air Charter flights, you get…
No long TSA lines – it's just you and your traveling companions, including your pet.
No extra baggage fees.
No delays.
Fly with people you know – your friends and family members.
Experienced staff mean safety for you.
Our staff will recommend the most cost-efficient aircraft for your trip.
Save time and money with the Premier Card Program.
Noble Air's jets* and turbo-props fly where you want to go, when you want to go there. And land very near your ultimate destination.
The Segway Tours in Pensacola are calling you!
Book Now – Segway gliding fun is only an hour and a half away. Or call Noble Air to charter your flight to anywhere in the world – (305) 685-9634.
*Noble Air Charter is a transparent private jet charter brokerage acting as Agent for Client and providing market analysis and aid in securing air charters worldwide that are operated by FAA certified, Part 135, DOT registered carriers or a foreign equivalent safety authority. Operators qualified to provide Noble Air Charter and our clients' aircraft charters maintain operational control of the flight at all times while exceeding all FAA safety standards and requirements. Noble Air Charter does not own or operate their own Jet aircraft.
or a Twin-Propeller Aircraft?
Our recommendations for the ideal aircraft vary based on your specific travel requirements. Typically, for distances of 250 miles or less, we suggest a Twin-Engine Propeller aircraft. This type of aircraft is especially suitable for short runways. For longer distances and faster travel times, we suggest choosing a Jet.

Our team understands that every travel need is unique, and we're ready to provide customized solutions for your travel plans. Our fleet is diverse and equipped to cater to a range of requirements, and our pilots are highly trained professionals who prioritize your safety and comfort. No matter where your travel takes you, our company is dedicated to providing you with the highest level of service and convenience. We look forward to taking you to your destination with ease and comfort.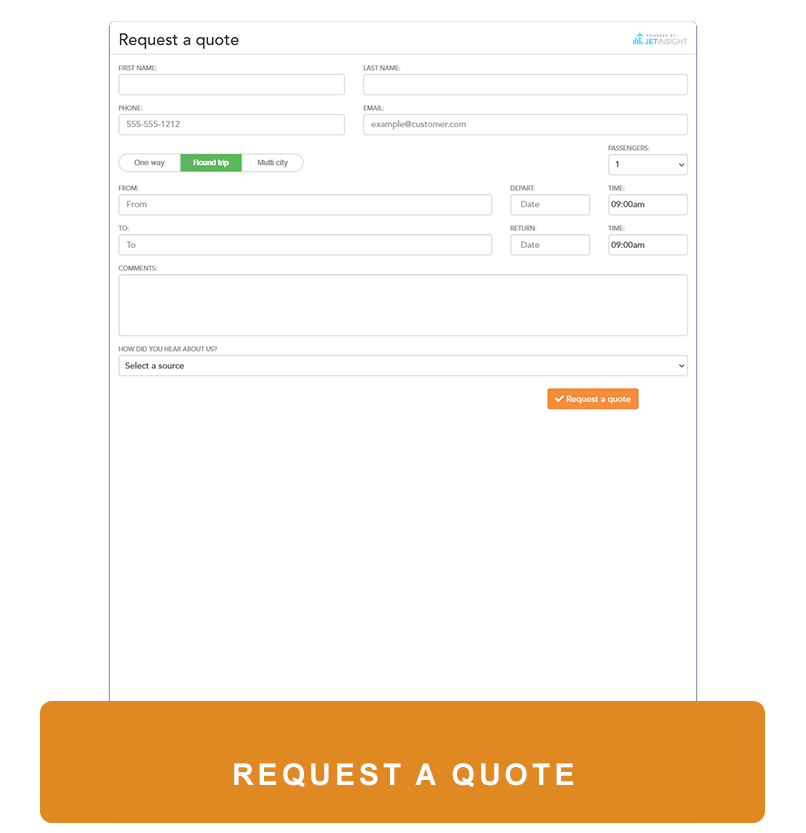 Our professional staff is ready to assist you in booking your private jet or turbo-charged propeller charter aircraft. Let's start with some basic information to get you going.
You can also reach us by phone, text and email.
Email: info@nobleaircharter.com