Have you ever driven to Opa-Locka Executive Airport and wondered, "Where did that unusual name come from?"
If you're like many people around Miami, you might have thought the name had something to do with opening a lock, judging by the sound of it.
Turns out, there's a really interesting story behind it.
Aviation pioneer Glenn Curtiss retired from aircraft development and manufacturing in the 1920s and became a real estate developer in Florida. In 1926, he founded the city of Opa-Locka, naming it Opa-tisha-woka-locka (quickly shortened to Opa-Locka), a Native American name that translates into the high land north of the little river with a camping place.
In fact, the 'camping place' has grown up and been involved with both military operations and private flights since day one.
As recently as the year ending May 24, 2017 the airport had 147,638 operations, an average of 404 per day…
[row] [column columns=6]
87% general aviation
6% military
[/column] [column columns=6]
[/column] [/row]
Today, Noble Air Charter, with its fleet of turbo-props and jets at Opa-Locka Executive Airport, offers private chartered flights to Florida, the Bahamas and beyond.
Proudly, we also offer light to heavy private jets to safely provide for your long-distance, domestic and international travel needs. Noble Air Charter is a FAA Certified air carrier and a specialized provider of affordable private air charter service.
Noble Air Charter has 'opened the lock' to the skies with safe, reliable, courteous service, no waiting lines, surprisingly affordable fees and best of all..we fly where you want to go when you want to go there.
Charter a flight to The Bahamas or anywhere else. Book Now!
or a Twin-Propeller Aircraft?
Our recommendations for the ideal aircraft vary based on your specific travel requirements. Typically, for distances of 250 miles or less, we suggest a Twin-Engine Propeller aircraft. This type of aircraft is especially suitable for short runways. For longer distances and faster travel times, we suggest choosing a Jet.

Our team understands that every travel need is unique, and we're ready to provide customized solutions for your travel plans. Our fleet is diverse and equipped to cater to a range of requirements, and our pilots are highly trained professionals who prioritize your safety and comfort. No matter where your travel takes you, our company is dedicated to providing you with the highest level of service and convenience. We look forward to taking you to your destination with ease and comfort.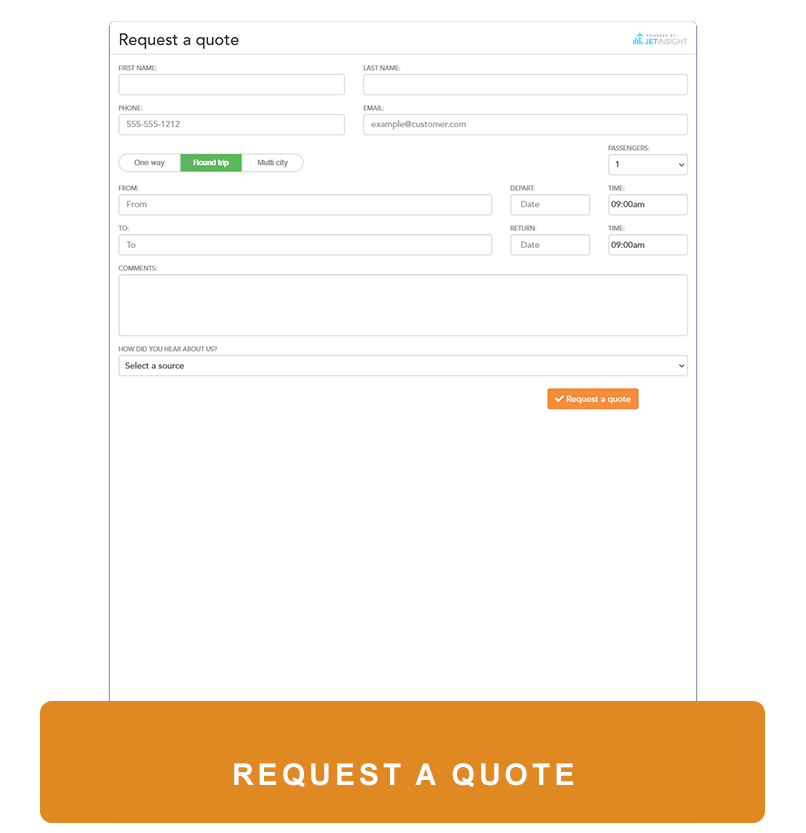 Our professional staff is ready to assist you in booking your private jet or turbo-charged propeller charter aircraft. Let's start with some basic information to get you going.
You can also reach us by phone, text and email.
Email: info@nobleaircharter.com