"More than anything else, the sensation of flying is one of perfect peace mingled with an excitement that strains every nerve to the utmost — if you can conceive of such a combination." Wilbur Wright
Perfect peace and excitement…how could you not want those feelings for yourself? You can have all that and more, the first time and every time, you charter a flight with Noble Air.
If you have grown tired of arriving at the airport two hours early for a commercial flight, standing in line – shoeless – to be checked in, herded like cattle into an uncomfortable seat and served stale peanuts and canned soda pop as a refreshment, you can say goodbye to all that forever.
Your first charter flight will be an eye-opener. You will discover comfort, convenience and the perfect peace of unparalleled customer service along with the excitement of the limitless blue heavens.
Think of your charter flight as a personal concierge service.
Deluxe surroundings, the foods and beverages you have chosen, the freedom to move around the aircraft and sit where you get the best view are all yours with chartered air travel.
Your pilots and flight crew are there for your safety, but they are also your hosts. You are welcome to chat with the pilots after the aircraft has reached cruising speeds.
Most folks are so pleased by the catering, the courteous service and the proximity of the airport to their actual destination that they want to tip the pilots and crew. While it is not expected, it is certainly appreciated.
So, how much should you tip?
Ground services – If your exceptional driver gave you extra special help, $20 – $50 might be appropriate.
Line crew – They help to load and unload your baggage, ensure the aircraft is properly fueled and that your catering order gets onboard. $20 per line crew member is a classy tip.
Cabin attendants – Cabin and flight attendants ensure your safety and attend to hospitality during your flight. They are not salaried employees, they are typically paid a daily rate. $100 tip per flight attendant is a good starting point.
Pilots – There is no expectation to tip a pilot, as they are salaried employees. On smaller aircraft, though, the pilot sometimes acts as a cabin host after the aircraft has reached cruise speed. Tipping your pilots $50 or more – up to 5% – 10% of the charter price – will show your appreciation for all of their skill and effort.
Eventually, you will have to come back home. When booking your return flight, you can ask for the aircraft to remain on the ground, thus maximizing your ability to leave early without waiting for another flight to depart first.
What are you waiting for? Book your first exciting charter flight to the destination of your dreams with Noble Air Charter.
or a Twin-Propeller Aircraft?
Our recommendations for the ideal aircraft vary based on your specific travel requirements. Typically, for distances of 250 miles or less, we suggest a Twin-Engine Propeller aircraft. This type of aircraft is especially suitable for short runways. For longer distances and faster travel times, we suggest choosing a Jet.

Our team understands that every travel need is unique, and we're ready to provide customized solutions for your travel plans. Our fleet is diverse and equipped to cater to a range of requirements, and our pilots are highly trained professionals who prioritize your safety and comfort. No matter where your travel takes you, our company is dedicated to providing you with the highest level of service and convenience. We look forward to taking you to your destination with ease and comfort.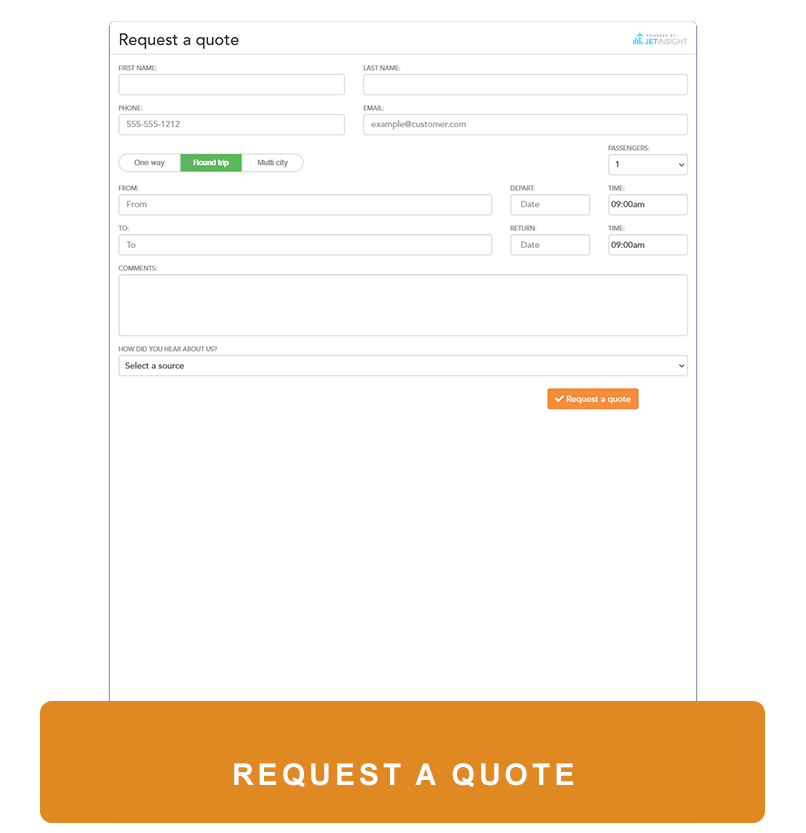 Our professional staff is ready to assist you in booking your private jet or turbo-charged propeller charter aircraft. Let's start with some basic information to get you going.
You can also reach us by phone, text and email.
Email: info@nobleaircharter.com