Going to the Bahamas, the Caribbean, or trips in Florida for business or pleasure frequently? You need the Noble Air Private Charter Card. When you lock in your discounted hourly rate with our Premier Charter Card Program, you'll enjoy big savings, as well as…
Time Saving – You can arrive at the airport just minutes before your scheduled departure time, fly directly to your destination, make productive use of your time onboard, avoid overnight stays, and no waiting in lines at the airport.
Guaranteed Access – 365 days a year, plus bookings on peak travel days.
Questions Answered – 24/7 access to a private aviation specialist.
Privacy – Have meetings and discussions, and stay out of the limelight.
Flexibility – Planes can be ready in a few hours, and change schedules to suit you.
Go Anywhere – Fly anywhere in the US with just 72 hours' notice on non-peak travel days.
Reduced Stress – No rushing to meet a fixed departure time, no hanging around in crowded airports.
Image – a private plane projects a well-run, efficient, successful individual or organization.
Plus – Dining above the clouds! Domestic and global catering and concierge services are available!
Why stay home when you can fly anywhere from Opa-Locka Executive Airport…and save a bundle at the same time?
Even better than the average private charter card, it's the Noble Air Premier Charter Card.
or a Twin-Propeller Aircraft?
Our recommendations for the ideal aircraft vary based on your specific travel requirements. Typically, for distances of 250 miles or less, we suggest a Twin-Engine Propeller aircraft. This type of aircraft is especially suitable for short runways. For longer distances and faster travel times, we suggest choosing a Jet.

Our team understands that every travel need is unique, and we're ready to provide customized solutions for your travel plans. Our fleet is diverse and equipped to cater to a range of requirements, and our pilots are highly trained professionals who prioritize your safety and comfort. No matter where your travel takes you, our company is dedicated to providing you with the highest level of service and convenience. We look forward to taking you to your destination with ease and comfort.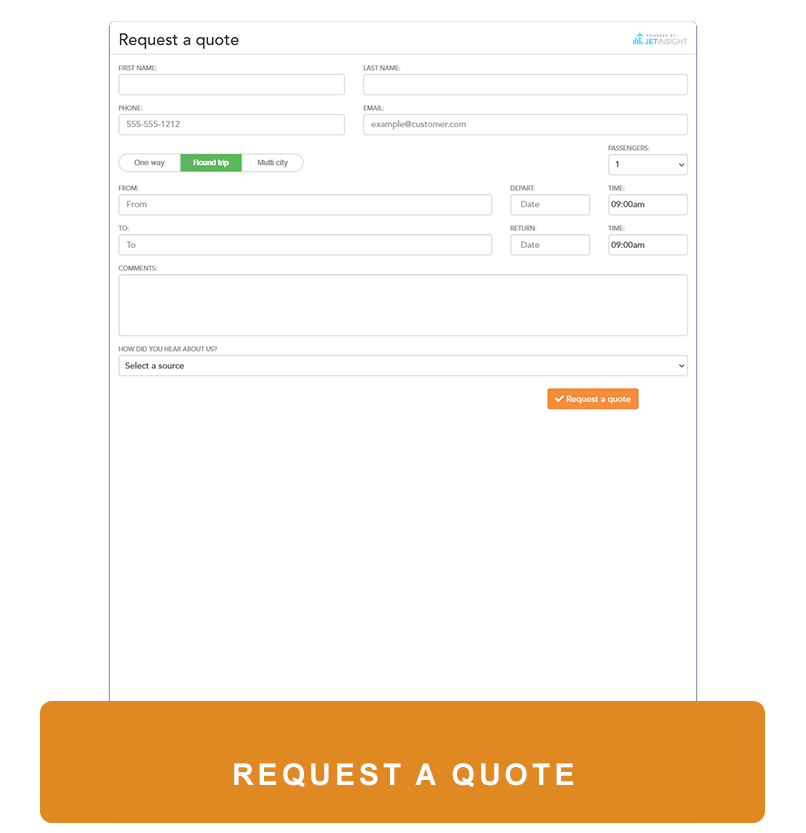 Our professional staff is ready to assist you in booking your private jet or turbo-charged propeller charter aircraft. Let's start with some basic information to get you going.
You can also reach us by phone, text and email.
Email: info@nobleaircharter.com