Seven out of ten dogs get Christmas presents from their humans. Usually things like rhinestone collars or new leashes. Phooey! Dogs don't want that! They want to ride with you in the car, fly with you on the plane, and run up and down the beach with you on Dog Island.
Step Back in Time on Florida's Forgotten Coast
If you're dreaming of pristine beaches, bountiful boating adventures, and prolific offshore fishing, it's time to charter a plane to Carrabelle and Dog Island. Call Noble Air Charter, put your doggie in his carrier with his chew toys and portable water dish, and take your furry friend with you.
In Carrabelle, you'll find "Old Florida" – no high rise hotels or condos blocking your view, no traffic snarls – just beautiful beaches, rich river marshes, boundless wildlife, and a truly welcoming spirit.
What to Do in Carrabelle
After your Noble aircraft touches down, the first thing to do is visit the World's Smallest Police Station (it's a phone booth!) and take some selfies starring your doggie.
Then go to 401 Marine St for the Dog Island Conservation District Dock for next leg of your unique vacation – the 3.5 mile boat trip to Dog Island.
Onward to Dog Island!
Dog Island is a privately owned, remote barrier island accessible only by water-taxi or small airplane. The landing strip is a grassy field. The Nature Conservancy owns much of this place, which is why it is virtually unspoiled. There's only one hotel on this 7-mile-long island, the loaded with character (if lovably ramshackle) Pelican Inn.
You and your dog will have a great day of swimming, picnicking, crabbing, fishing from shore, running on the beach, and collecting sea stars and driftwood. Carry everything you might need with you, and preserve Dog Island's pristine beauty by leaving nothing behind.
You can't bring a car to the 'island that time forgot', as the 100 local residents call their little sanctuary, but you're guaranteed quiet beaches, shells galore, and aquamarine waters.
Ready When You Are and Surprisingly Affordable
Our fleet of jets* and turbo-props departs from Miami's Opa-Locka Executive Airport whenever you are ready to go. We specialize in travel within Florida and the Bahamas 365 days a year.
No long TSA lines – it's just you and your traveling companions, including your pet.
No extra baggage fees.
No delays.
Fly with your pets.
Experienced staff mean safety for you.
Our staff will recommend the most cost-efficient aircraft for your trip.
Save time and money with the Premier Card Program.
Your Dog Island vacation is just a click away. Contact Noble Air for Your Affordable Private Charter Flight! Book Now!
*Noble Air Charter is a transparent private jet charter brokerage acting as Agent for Client and providing market analysis and aid in securing air charters worldwide that are operated by FAA certified, Part 135, DOT registered carriers or a foreign equivalent safety authority. Operators qualified to provide Noble Air Charter and our clients' aircraft charters maintain operational control of the flight at all times while exceeding all FAA safety standards and requirements. Noble Air Charter does not own or operate their own Jet aircraft.
or a Twin-Propeller Aircraft?
Our recommendations for the ideal aircraft vary based on your specific travel requirements. Typically, for distances of 250 miles or less, we suggest a Twin-Engine Propeller aircraft. This type of aircraft is especially suitable for short runways. For longer distances and faster travel times, we suggest choosing a Jet.

Our team understands that every travel need is unique, and we're ready to provide customized solutions for your travel plans. Our fleet is diverse and equipped to cater to a range of requirements, and our pilots are highly trained professionals who prioritize your safety and comfort. No matter where your travel takes you, our company is dedicated to providing you with the highest level of service and convenience. We look forward to taking you to your destination with ease and comfort.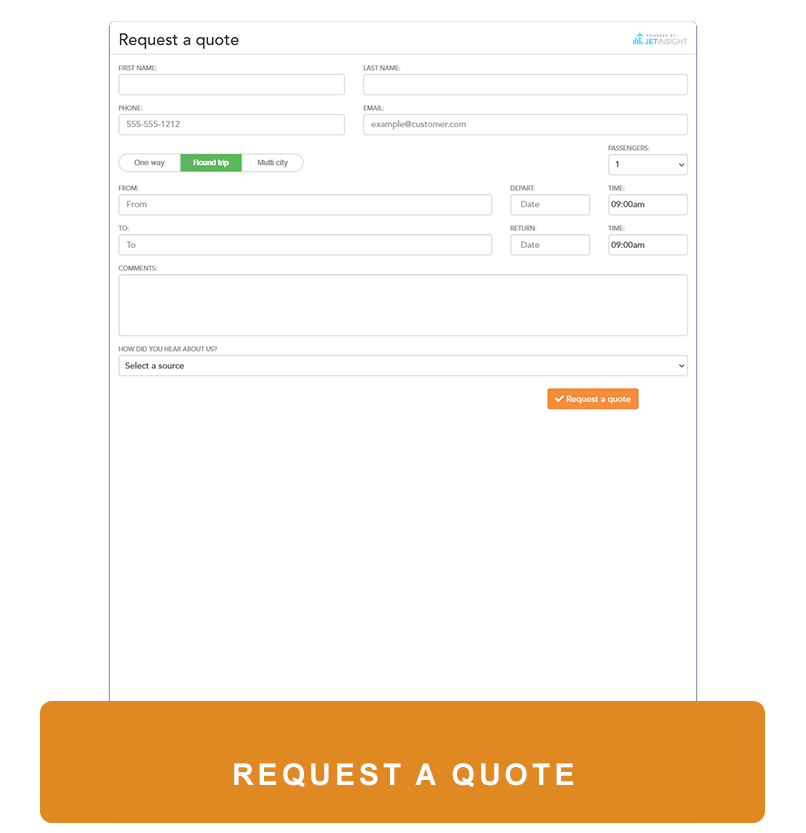 Our professional staff is ready to assist you in booking your private jet or turbo-charged propeller charter aircraft. Let's start with some basic information to get you going.
You can also reach us by phone, text and email.
Email: info@nobleaircharter.com