If you drive you to need a license, if you travel overseas you need a passport and in college, you typically get an ID.
So, what about if you're planning to fly domestically or internationally via commercial or a private charter in the next few weeks or months? Is there some kind of identification you need to board a flight?
The answer is a definite, YES.
It's called a REAL ID and come this fall – precisely on Oct. 21 – all U.S. travelers must be "REAL ID" ready to fly and to enter some federal facilities.
This is because Congress passed the REAL ID Act in 2005 which "set standards for the issuance of sources of identification, such as driver's licenses."
The Act sets minimum security guidelines for state-issued driver's licenses and identification cards and doesn't let Federal agencies accept identification cards that don't meet these guidelines.
Better Show It
If you do not show a REAL ID-compliant license or acceptable alternative documents, like an enhanced drivers' license/EDL, or a passport, you will not be able to get through the airport's security checkpoint. For international travel, your passport is fine.
You must get a real ID if:
You will be flying domestically with only a state-issued ID.
You don't have a passport or an acceptable alternative document.
You need to visit a Federal facility and don't have a military ID.
Some exceptions include: If you're under 18, you are not required to have a REAL ID.
How to get a REAL ID
To get a REAL ID try searching your state's DMV website (before going in person) to see what documents are needed to get a REAL ID. Some states could have additional requirements.
On a side note: REAL ID-compliant cards have a star in the upper corner of the card. In some states, it could be gold or black. If your card does not have a REAL ID star, it will not be accepted as proof of ID to board a commercial aircraft or private airplane. Also, your card may not be compliant if it states: "Not for Federal Identification" or "Federal Limits Apply."
Learn more here before getting ready for your next trip, meeting, or vacation.
Be sure to book your private flight with Noble Air Charter for a pleasurable and hassle-free experience!
or a Twin-Propeller Aircraft?
Our recommendations for the ideal aircraft vary based on your specific travel requirements. Typically, for distances of 250 miles or less, we suggest a Twin-Engine Propeller aircraft. This type of aircraft is especially suitable for short runways. For longer distances and faster travel times, we suggest choosing a Jet.

Our team understands that every travel need is unique, and we're ready to provide customized solutions for your travel plans. Our fleet is diverse and equipped to cater to a range of requirements, and our pilots are highly trained professionals who prioritize your safety and comfort. No matter where your travel takes you, our company is dedicated to providing you with the highest level of service and convenience. We look forward to taking you to your destination with ease and comfort.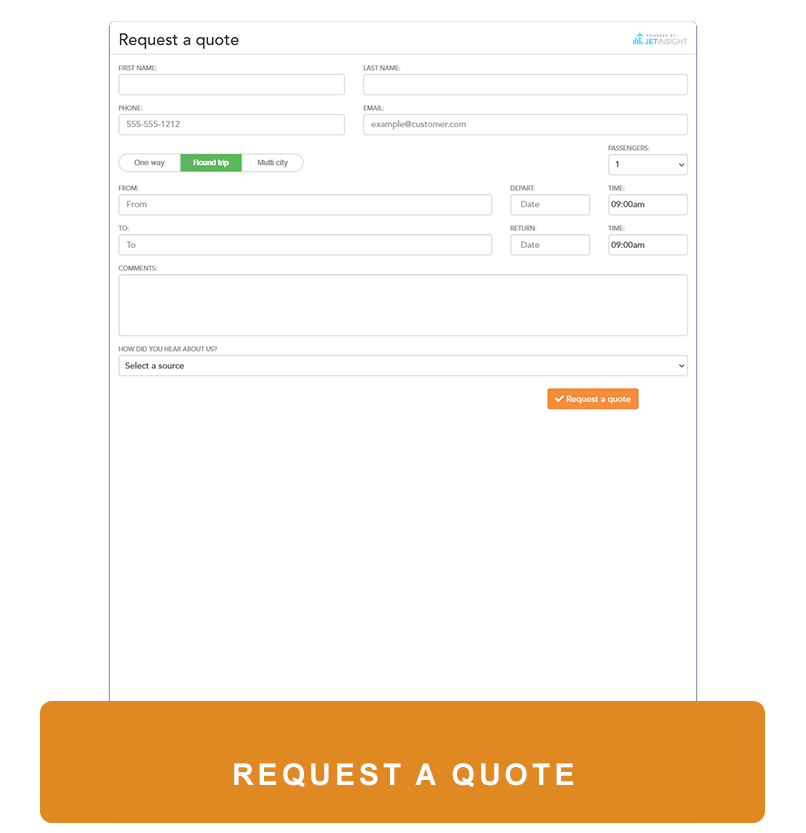 Our professional staff is ready to assist you in booking your private jet or turbo-charged propeller charter aircraft. Let's start with some basic information to get you going.
You can also reach us by phone, text and email.
Email: info@nobleaircharter.com