If you are heading to the Caribbean, you know that the destinations can only be reached two ways: by boat or by plane. If you wish to ride the waves of the crystal blue sea, but don't need to get to the Bahamas right away, a boat is fine. But if you wish to get your vacation underway quickly, there is no better choice than a quick hop from airport to airport by plane.
Many of the airports on the smaller islands can easily accommodate a prop plane, but jets are too fast and the runways are often too short for safe takeoff and landing. So, if you prefer to charter a jet for comfort or luxury, at Noble Air Charter, we want to help.
Below is a list of the airports within the island chains that will easily handle your speedy air transportation:
1. Lynden Pindling International in Nassau
Let's start with the most popular first. Nassau, the famous capitol of the Bahamas is a well-traveled cruise port and is home to the world-famous Atlantis Hotel on Paradise Island. It is the commercial hotspot of the island chain.
2. Grand Bahama International, Freeport
If luxury is what you seek, then you have come to the right place. Freeport is the largest city on the largest island in the Bahamas. It is home to lots of high-end shopping, incredible restaurants and lots of luxury properties. And it is a major port city.
3. Great Exuma, The Exumas
The Exumas are renowned for their sapphire-blue waters – waters so stunning, their brilliant colors are visible even from outer space. This chain of 365 islands is home to secluded footprint-free beaches, deserted cays, ultra-exclusive resorts, and… swimming pigs! Jet with us into Exumas GGT International in Great Exuma and enjoy this favorite Bahamas destination.
4. Treasure Cay, Bahamas
A wonderful spot for a more laid-back Bahamian experience, Treasure Cay in the Abaco Islands is a seaside resort community. It offers an incredible golf experience, plenty of boating and fishing, and pretty much anything else you might want to do on your holiday.
5. Bimini Island, South Bimini
Located just a quick 50 miles off the US coast, Bimini is known for its historical significance and attracts many folks who love the lore of the sea. It is a favorite spot for travelers for its proximity to the mainland, and it's unbelievable lovely beaches.
6. Chub Cay, Berry Islands
If you love to fish, then the Berry Islands are the place to be. Considered the fishing capitol of the entire Bahama chain, Chub Cay is an angler's paradise. But don't think all there is to do is fish. There are world class spas, and lots of traditional Bahamian activities as well.
7. Marsh Harbour International, Marsh Harbour
Anyone will feel comfortable walking the picturesque beaches, the cobblestone markets, and watching the spectacle of the boating life in this fantastic destination. It is a quaint escape that is celebrated by all.
8. North Eleuthera, Eleuthera Island
Some folks go to the Bahamas for what is above the water. Eleuthera is a paradise for oceanographers that are more interested in the history of the islands, and what lies below the surface. It is filled with ecological wonders, hidden attractions, and plenty of natural items to enjoy.
9. San Salvador Island
One of the smallest inhabited islands in The Bahamas, San Salvador is unique in the archipelago. Its sparkling inland lakes, various historic monuments, miles of secluded beaches and roughly 50 dive sites keep visitors well entertained.
Each of these islands is ready, willing, and able to handle your jet flight with Noble Air Charter. BOOK NOW and see the wonders of these magical destinations!
or a Twin-Propeller Aircraft?
Our recommendations for the ideal aircraft vary based on your specific travel requirements. Typically, for distances of 250 miles or less, we suggest a Twin-Engine Propeller aircraft. This type of aircraft is especially suitable for short runways. For longer distances and faster travel times, we suggest choosing a Jet.

Our team understands that every travel need is unique, and we're ready to provide customized solutions for your travel plans. Our fleet is diverse and equipped to cater to a range of requirements, and our pilots are highly trained professionals who prioritize your safety and comfort. No matter where your travel takes you, our company is dedicated to providing you with the highest level of service and convenience. We look forward to taking you to your destination with ease and comfort.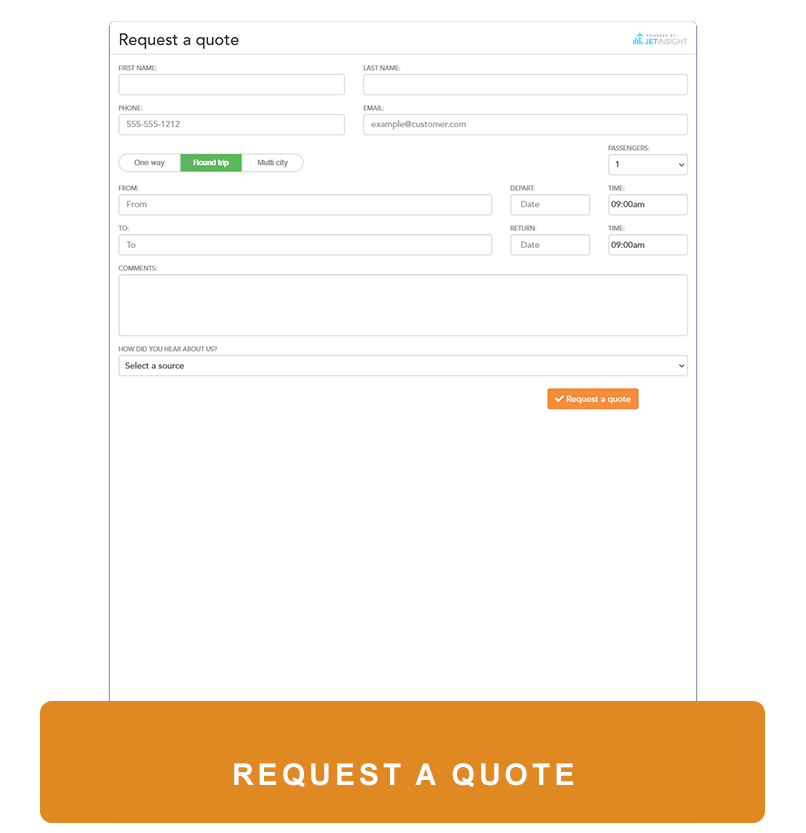 Our professional staff is ready to assist you in booking your private jet or turbo-charged propeller charter aircraft. Let's start with some basic information to get you going.
You can also reach us by phone, text and email.
Email: info@nobleaircharter.com