Noble Air Charter has been serving the Florida business and leisure travel needs for more than 14 years with an experienced staff. Although we specialize in travel within Florida and the Bahamas 365 days per year, we've since expanded to include jet charter service to anywhere in the world. And we continue to evolve with significant upgrades that streamline the private jet charter experience, including our new logo design.
Jonathan Jackson, who bought Noble Air Charter in April 2019, has made significant upgrades and has taken the time to briefly explain how it will improve the customer experience.
What motivated you to change the Noble Air Charter logo?
"I have my wife to thank for that. She sought out freelance artists and finally narrowed it down to one artist who created the logo that best exemplifies who we are and what we offer.
Nobody cared much for the previous logo, me included. It was too bland for our expanding charter services. Hence the need for the new logo."
What other recent upgrades have you made?
"We updated the interior of one of our airplanes, the N800KW, and acquired a new Cesna 402C, in January. The Cesna has an experienced in-service date of March 1, which brings our fleet to four aircraft."
"We've also partnered with Silver Lining Catering. They're widely known for their signature style and contemporary cuisine. They cater to exactly what our guests envision. And now they will provide delectable, cost-effective dining options for all of our guests."
"We've also beefed up our IT infrastructure, to better safeguard customer's private billing information. It's backed by a very high-tech fire wall with multiple redundancies built in, think back-up after back-up."
"Lastly, we've upgraded our billing system to JetInsight. Once we input customers' data there's no need to go back in, repeatedly, like with passport information. Additionally, clients can book directly online and monitor their trip. If you need to request information, or make any flight changes, it's now an option."
About Noble Air Charter
Noble Air Charter is a FAA certified air carrier and a specialized provider of affordable Private Jet Charter services. Located at Miami-Opa Locka Executive Airport, our upgrades mean greatly improved private jet charter experiences whenever you fly throughout North America, Europe and beyond. Book your private jet charter today!
or a Twin-Propeller Aircraft?
Our recommendations for the ideal aircraft vary based on your specific travel requirements. Typically, for distances of 250 miles or less, we suggest a Twin-Engine Propeller aircraft. This type of aircraft is especially suitable for short runways. For longer distances and faster travel times, we suggest choosing a Jet.

Our team understands that every travel need is unique, and we're ready to provide customized solutions for your travel plans. Our fleet is diverse and equipped to cater to a range of requirements, and our pilots are highly trained professionals who prioritize your safety and comfort. No matter where your travel takes you, our company is dedicated to providing you with the highest level of service and convenience. We look forward to taking you to your destination with ease and comfort.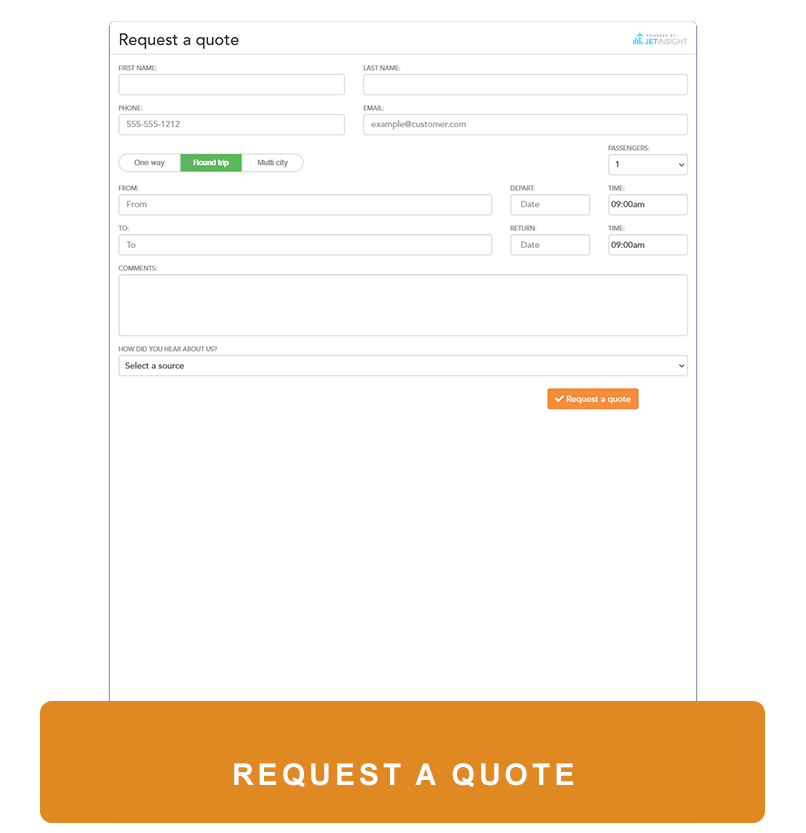 Our professional staff is ready to assist you in booking your private jet or turbo-charged propeller charter aircraft. Let's start with some basic information to get you going.
You can also reach us by phone, text and email.
Email: info@nobleaircharter.com