There are many myths surrounding private air charter, and this is mainly because the majority of information about private air charter is obtained by word of mouth, not experience!
Here are some of those myths debunked.
1. You have to be rich to use private air charter.
While many of the world's most rich and famous use private air travel rather than commercial, it can actually be remarkably affordable to travel by private air charter.
This is even more true when traveling as a group and splitting the cost and filling up the plane to capacity with passengers.
2. It's difficult to book private air charter.
Booking with commercial airlines may be quick, but private air charter can be easier. There's usually a dedicated team for customers' every need.
Beyond just finding the perfect aircraft for the journey, they also usually cover transport to and from the arrival and destination locations, and even take care of lodging.
3. Private air charter is dangerous.
Using a top-rate charter company is key for a safe transaction. For a safe journey, any reputable and upstanding private air charter will have their planes and crew go through many thorough safety checks.
4. Only certain people can get private air charter.
Anyone and everyone can fly with private air charter. Beyond comfort, privacy, and luxury, it's a unique experience and makes for a great gift.
5. Private air charter is slower than commercial flying.
Flying in smaller models doesn't mean slower flights! Flying privately means skipping long queues, boarding on time, and landing closer to the desired location (since there are more private airports than commercial airports). All these things mean that flying privately is often much faster than flying commercially.
The best way to debunk those air charter myths is by flying in person with Noble Air Charter! Book your charter flight today and experience flying in a whole new way.
or a Twin-Propeller Aircraft?
Our recommendations for the ideal aircraft vary based on your specific travel requirements. Typically, for distances of 250 miles or less, we suggest a Twin-Engine Propeller aircraft. This type of aircraft is especially suitable for short runways. For longer distances and faster travel times, we suggest choosing a Jet.

Our team understands that every travel need is unique, and we're ready to provide customized solutions for your travel plans. Our fleet is diverse and equipped to cater to a range of requirements, and our pilots are highly trained professionals who prioritize your safety and comfort. No matter where your travel takes you, our company is dedicated to providing you with the highest level of service and convenience. We look forward to taking you to your destination with ease and comfort.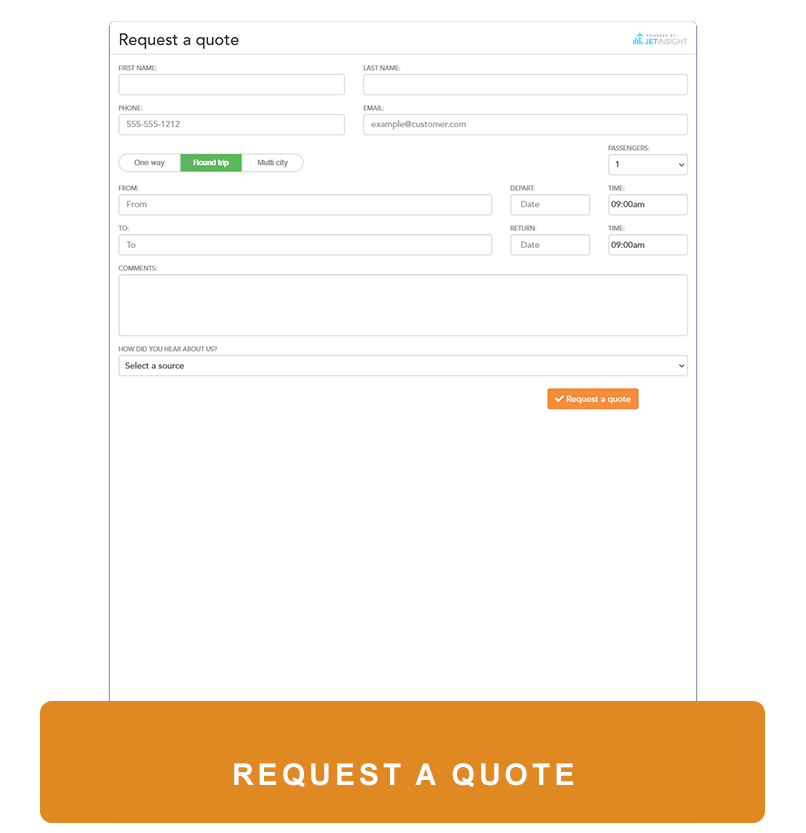 Our professional staff is ready to assist you in booking your private jet or turbo-charged propeller charter aircraft. Let's start with some basic information to get you going.
You can also reach us by phone, text and email.
Email: info@nobleaircharter.com