Upon booking your flight with Noble Air Charter, you will enjoy personalized jet charter concierge and catering services. Our priority is to provide a seamless travel experience that exceeds your expectations of convenience and luxury. Our world-class in-flight concierge and catering services reflect that dedication.
Premier Concierge Services
Noble Air Charter provides private charter concierge services to ensure a luxurious travel experience, domestic or international. Our concierge team is available to book your hotel reservations, ground transportation and more:
Rental cars or private limousine service
Cargo transportation security
On-board meeting accommodations
In-flight catering
Private Jet In-Flight Catering
Noble Air Charter has partnered with Silver Lining Catering to provide the very best delectable and cost-effective in-flight dining options. Whether you're craving haute cuisine with Champagne or noodles from your favorite take-out spot, the menu on board is entirely up to you. Request whatever your palate desires and it's yours:
Gourmet entree and hors d'oeuvres
Unique desserts
Children's meals and snacks
Vegetarian or other specialty dietary options
Noble Air Charter also offers fully stocked bars with any refreshments upon request.
Whether you're traveling for business or pleasure, our team will always meet your precise travel needs, offering everything from the largest heavy jets for group charters, down to light and mid-sized options that can get you there comfortably, quickly and in style. All you need to do is look forward to your next trip on one of our private jets and you'll be sure to enjoy our premier concierge and in-flight catering services.
Noble Air Charter has been serving the Florida business travel needs for more than 14 years with an experienced staff. We specialize in the sunshine state and The Bahamas, while offering both domestic and international travel. From the beginning, we have served this niche market with a passion to make plane charter affordable, super-safe, and super-fast. Contact us now to experience the very best in private jet charter concierge and catering services.
or a Twin-Propeller Aircraft?
Our recommendations for the ideal aircraft vary based on your specific travel requirements. Typically, for distances of 250 miles or less, we suggest a Twin-Engine Propeller aircraft. This type of aircraft is especially suitable for short runways. For longer distances and faster travel times, we suggest choosing a Jet.

Our team understands that every travel need is unique, and we're ready to provide customized solutions for your travel plans. Our fleet is diverse and equipped to cater to a range of requirements, and our pilots are highly trained professionals who prioritize your safety and comfort. No matter where your travel takes you, our company is dedicated to providing you with the highest level of service and convenience. We look forward to taking you to your destination with ease and comfort.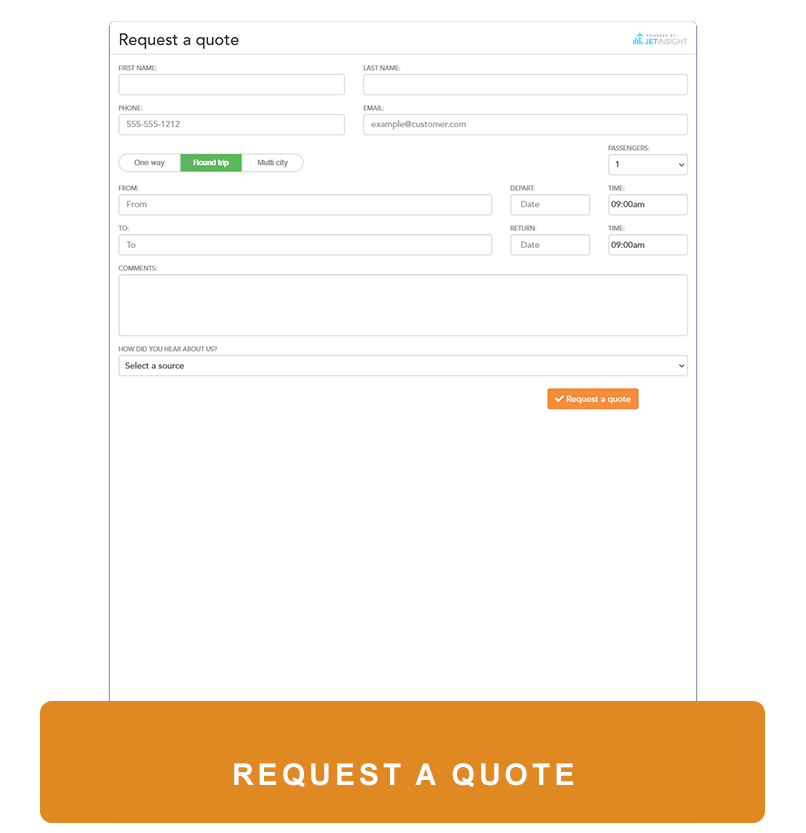 Our professional staff is ready to assist you in booking your private jet or turbo-charged propeller charter aircraft. Let's start with some basic information to get you going.
You can also reach us by phone, text and email.
Email: info@nobleaircharter.com