When flying via private charter, there is a plethora of benefits that come with it such as privacy, a luxurious experience, personally tailored service, and having a more flexible timetable. It is always necessary however, to weigh up the pros and cons of flying charter in order to decide if it is the best option for your particular trip.
That is why we have compiled a list of all of the pros and cons of flying charter so that you can easily decide whether the positive aspects outweigh the negatives for your chosen journey.
The Pros of Flying Charter
Luxury and Comfort
Perhaps the biggest perk to chartering your own jet, private charters allow passengers to have complete control over their experience with customized catering and constant service from cabin crew, comfortable seating, special amenities tailored to the needs of individual customers, and anything else that a customer can think of. The crew will know you by name, and the entire service can be built around your preferences for food, beverages, and entertainment.
Privacy
Being able to freely move about the aircraft without sharing the space with others who are not a part of your group has become even more important now with the COVID-19 pandemic and social distancing measures. The difference is like driving your own car versus taking a public bus, where the noise and interruptions from other people on board can spoil the experience and make it difficult to relax. The privacy of a private charter allows you to work, relax, and just enjoy having a space to yourself.
Accessibility
Commercial flights require that passengers arrive at busy airports hours before their flight, go through lengthy check-in processes and wait in long lines to board and disembark the plane. Private charters on the other hand can take off and land using a Fixed Base Operation, which is often an area reserved for private aircraft next to an airport. Here, passengers can easily go through security checks in minutes and skip all of the lines and hassle before boarding or disembarking, saving hours.
Smaller chartered flights can also land at smaller airports such as those on remote islands that large, commercial flights simply cannot access, giving passengers a much wider range of destination options using just one mode of transport.
Use in Emergencies
In natural disasters or emergencies where you need to evacuate or quickly go to a hospital, a private flight provides customers with instant access to anywhere they need to go quickly, rather than spending hours booking a commercial flight and fighting through a crowded airport or spending hours driving.
The Cons of Flying Charter
Cost
The added luxury, comfort, and convenience comes with a higher price tag than commercial flights, however private charters can also save a lot of time and energy. When time is money and you need to arrive at your destination promptly, then it may be worth it.
Planning
The upside to commercial flights is that all of the planning is taken care of, such as the departure time, meals, seating arrangements, and entertainment. And because commercial flights operate on a much larger scale, if any mechanical issues arise then they can easily arrange another plane for limited interruption.
A good private charter service will get to know your flight preferences and preferred schedule which will further reduce the amount of time spent planning. This is why so many people choose Noble Air Charters, so book now to fly with luxury and make the most out of your time when traveling!
or a Twin-Propeller Aircraft?
Our recommendations for the ideal aircraft vary based on your specific travel requirements. Typically, for distances of 250 miles or less, we suggest a Twin-Engine Propeller aircraft. This type of aircraft is especially suitable for short runways. For longer distances and faster travel times, we suggest choosing a Jet.

Our team understands that every travel need is unique, and we're ready to provide customized solutions for your travel plans. Our fleet is diverse and equipped to cater to a range of requirements, and our pilots are highly trained professionals who prioritize your safety and comfort. No matter where your travel takes you, our company is dedicated to providing you with the highest level of service and convenience. We look forward to taking you to your destination with ease and comfort.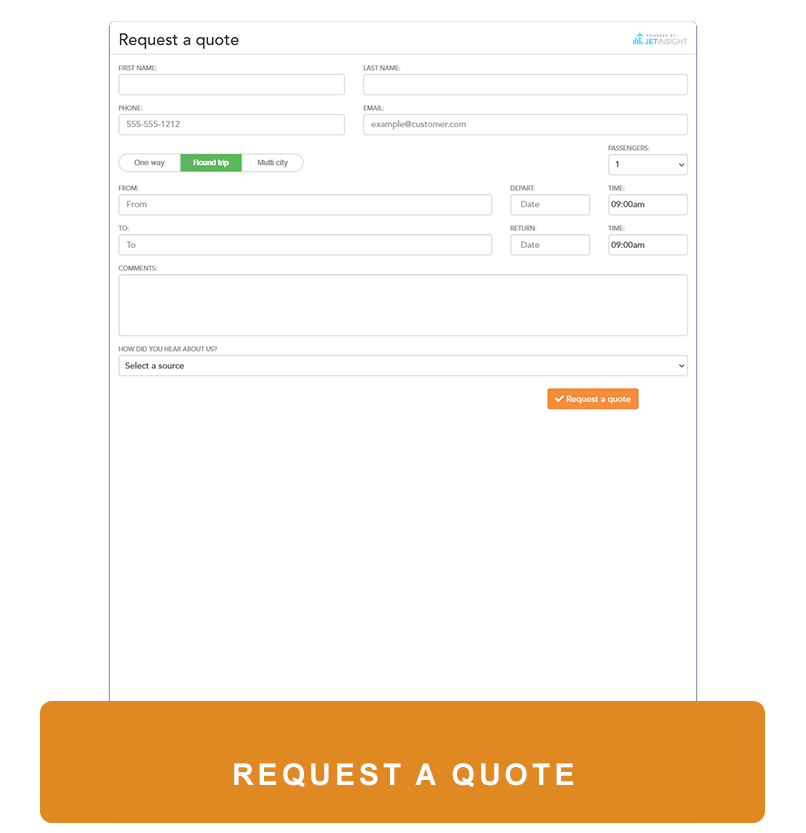 Our professional staff is ready to assist you in booking your private jet or turbo-charged propeller charter aircraft. Let's start with some basic information to get you going.
You can also reach us by phone, text and email.
Email: info@nobleaircharter.com