Just like hot dogs and baseball, cheese and wine, fishing and summer go together.
If you love fishing – any sort from bait to fly or even deep-sea fishing in the ocean you probably need to book a flight via Noble Air Charter and head to Florida's best fishing destinations.
The Sunshine State has some of the best fishing spots in the country and whether it's a Large Mouth Bass, a Sea Trout, or a jumping Marlin, this is the place you will find it.
Yes, Noble Air Charter can fly you and all your fishing gear to Florida's best fishing spots including the Florida Keys, Destin, Panama City Beach, and Fort Myers.
Fly in Style!
Fly to your favorite fishing spots thanks to Noble Air Charter service for when you want to fish this summer, or whenever.
Grab your fishing gear; lures, hooks, sinkers, rods, nets, and other fishing paraphernalia, and Noble Air Charter will do the rest.
Catching one of its charters is a heck of a lot easier than flying with the masses that's for sure. You can save time by not waiting in long lines at the airport, fighting to bring more of your fishing gear on a commercial flight and you can even take your pets if you want.
Noble Air Charter will accommodate you and all your fellow flyers right down to helping you load your tackle box.
If you're a beginner or an expert angler, it never hurts to brush up on important fishing tips before you vacation in Florida with these tips from our friends at the Florida Insider Fishing Report!
Whether you want to reel in a big one and hang it over your fireplace at home or just use a pole and cast a line with your kiddies you can do it all at any of Florida's wonderful fishing spots.
Be sure to book a flight on Noble Air Charter and get there fast so you can enjoy fishing morning, noon, and dusk.
Noble Air Charter has quick flights, quality service, delicious gourmet meals onboard, as well as a courteous, and professional staff to make your flight memorable.
And of course, get you in the mood for a fishing bonanza.
or a Twin-Propeller Aircraft?
Our recommendations for the ideal aircraft vary based on your specific travel requirements. Typically, for distances of 250 miles or less, we suggest a Twin-Engine Propeller aircraft. This type of aircraft is especially suitable for short runways. For longer distances and faster travel times, we suggest choosing a Jet.

Our team understands that every travel need is unique, and we're ready to provide customized solutions for your travel plans. Our fleet is diverse and equipped to cater to a range of requirements, and our pilots are highly trained professionals who prioritize your safety and comfort. No matter where your travel takes you, our company is dedicated to providing you with the highest level of service and convenience. We look forward to taking you to your destination with ease and comfort.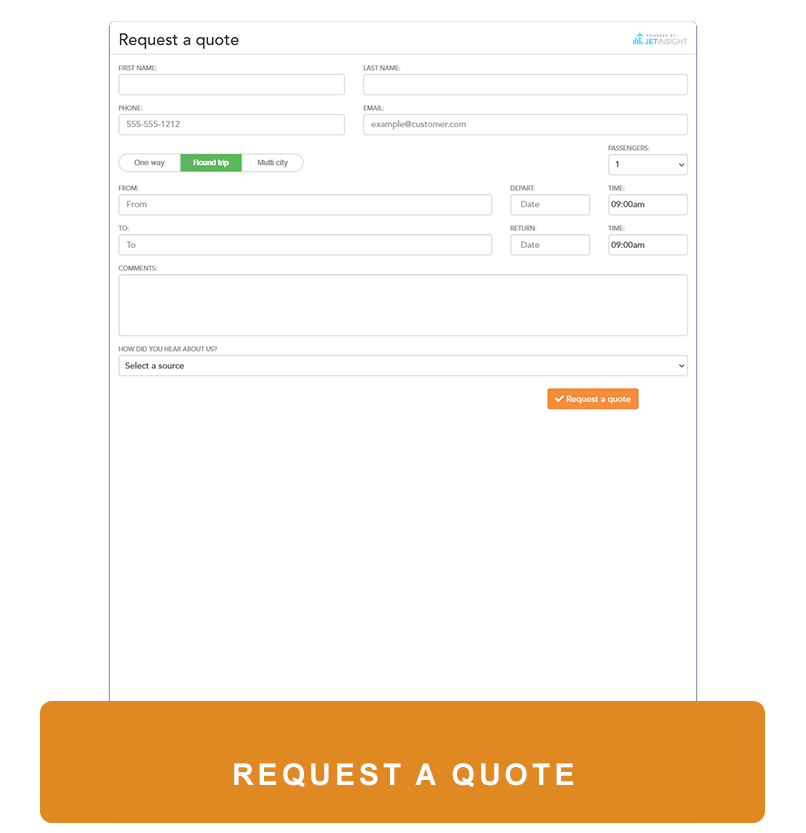 Our professional staff is ready to assist you in booking your private jet or turbo-charged propeller charter aircraft. Let's start with some basic information to get you going.
You can also reach us by phone, text and email.
Email: info@nobleaircharter.com