It is a fact: some business transactions cannot be done by Zoom
But that is okay, when you need to pay a face-to-face visit with your client or boss, or perform inspections, Noble Air Charter can certainly get you to your destination safely and on time.
Essential Travel
If you are someone who cannot work remotely or has a last-minute business trip, flying private charter and bypassing a commercial aircraft could be the answer.
The nice thing about traveling via a charter is that you can avoid commercial airlines altogether, along with a petri dish of germs and overwhelming crowds to get you from Point A to Point B fast even during a pandemic.
While full capacity flights are happening again it is not a perfect picture by any means: people are sitting elbow-to-elbow, not socially distancing, and on top of all this, many are flying sick disregarding protocols.
However, when flying by private jet the passenger count is smaller and you do not have to worry about rubbing elbows with others. Why not avoid large airports, endless lines, and crowded waiting areas before boarding?
At Noble Air Charter we say during these times avoid commercial airlines for essential travel and fly with us
Our private jet service has COVID-19 safety protocols in place to keep you safe and comfortable.
Noble uses airline industry grade Disinfectant Matrix® Disinfectant/Cleaner No. 3 Super Concentrate before and after each flight throughout the aircraft. We also constantly monitor and follow the advisements of the CDC, WHO, and NBAA.
When work demands that you need to be on site by early morning or late at night, skip the metro airport and take a faster, safer, and more sensible approach by booking a private jet flight with Noble Air Charter.
or a Twin-Propeller Aircraft?
Our recommendations for the ideal aircraft vary based on your specific travel requirements. Typically, for distances of 250 miles or less, we suggest a Twin-Engine Propeller aircraft. This type of aircraft is especially suitable for short runways. For longer distances and faster travel times, we suggest choosing a Jet.

Our team understands that every travel need is unique, and we're ready to provide customized solutions for your travel plans. Our fleet is diverse and equipped to cater to a range of requirements, and our pilots are highly trained professionals who prioritize your safety and comfort. No matter where your travel takes you, our company is dedicated to providing you with the highest level of service and convenience. We look forward to taking you to your destination with ease and comfort.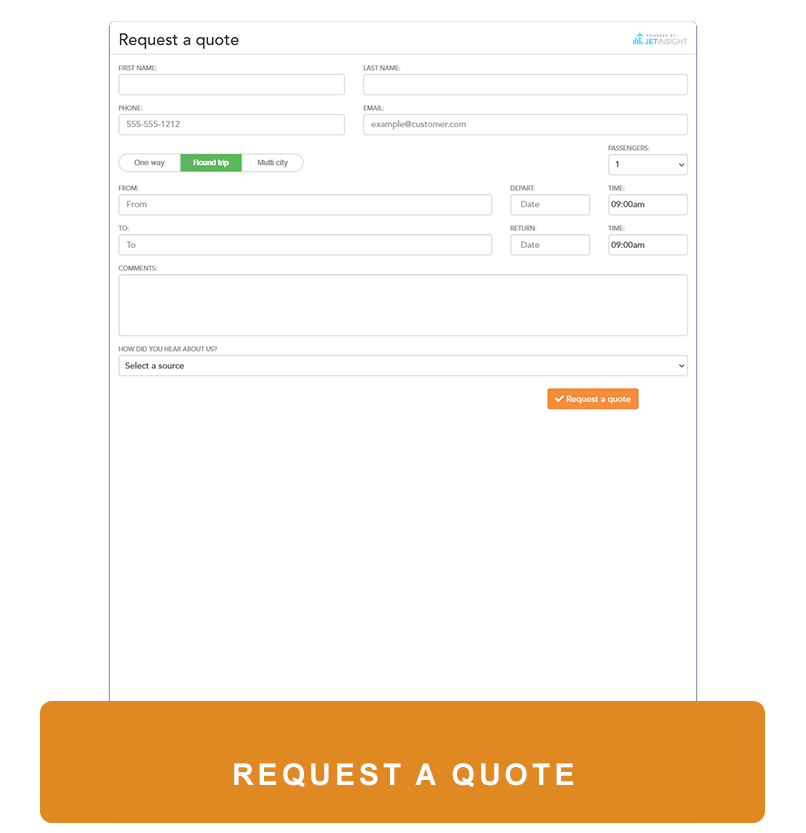 Our professional staff is ready to assist you in booking your private jet or turbo-charged propeller charter aircraft. Let's start with some basic information to get you going.
You can also reach us by phone, text and email.
Email: info@nobleaircharter.com