If you're considering chartering a flight for your next vacation, then chances are that you've already weighed charter flights against commercial in areas like price, comfort, and luxury. But what you may not have considered is air charter safety.
We often take air safety for granted, particularly as it's proven to be the safest form of public transportation. However, when you consider that billions of commercial flights take place every year, each with hundreds of passengers, you may begin to wonder how airlines can keep everyone safe.
With that in mind, let's look at why chartering a flight is often safer than flying commercial.
Third-Party Safety Audits
Many charter airlines work with third-party auditors and inspectors to check the safety of their fleet, operations, and aircraft manufacturers. During these checks, the inspectors will follow the private charters' guidelines for safety standards and will rigorously investigate for operational insecurities or known issues with mechanical assets.
And, if at any point an operator or supplier fails in these checks, the charter airline will no longer work with that business.
While many fliers automatically assume commercial flights are safer, the truth of it is that chartered airline checks are more thorough, simply because there is no strict turnaround time on flights.
Passenger Vetting
When you book a commercial flight, you only have to provide a few details about yourself, meaning that flight crews rarely know any information about the passengers that are boarding. Unfortunately, this severely hampers the ability of that flight crew to assess risk on that flight.
However, as you'll book your charter flight with a broker, the charter airline will be able to vet both you and your passengers before you board the plane. Plus, as you'll only be flying with other passengers that you already know, you can relax assured that the threat risk on your flight from other passengers is next to zero.
Familiar Crews
When you board a plane, you're usually relying on trust that the pilot and crew are all qualified to perform their jobs. With commercial airlines, you very rarely see the same flight crew twice, so it's difficult to create a bond of trust.
When you fly charter, not only will you quickly get to know your flight crew, but frequent flyers may also find themselves flying with the same crew on multiple trips. Plus, flight crew with charter airlines are regularly proficiency tested to maintain their FAA certification, and all charter pilots must hold a pilot's license at the same level as commercial airline pilots.
So, you can rest easy knowing that your flight crew is fully vetted and qualified to keep you safe in the air.
Flying with Noble Air Charter
It's perfectly normal to be a nervous flyer, which is why our experienced and caring staff and flight crew are always on hand to make your flight as safe and comfortable as it can be. Whether you need to make a short hop to another Floridian city, or you're looking for a break in the Bahamas, you can relax on your flight knowing that you've chosen the safest way to fly.
To learn more about our safety standards or book your next Noble Air Charter flight, get in touch with us!
Announcing our newest fleet addition!
Our CESSNA CITATION SII features:
Complimentary Satellite WiFi
110 Outlets/USB Ports
Seats 7
Enclosed Lavatory
Coffee, Tea, and Light Snacks!
or a Twin-Propeller Aircraft?
Our recommendations for the ideal aircraft vary based on your specific travel requirements. Typically, for distances of 250 miles or less, we suggest a Twin-Engine Propeller aircraft. This type of aircraft is especially suitable for short runways. For longer distances and faster travel times, we suggest choosing a Jet.

Our team understands that every travel need is unique, and we're ready to provide customized solutions for your travel plans. Our fleet is diverse and equipped to cater to a range of requirements, and our pilots are highly trained professionals who prioritize your safety and comfort. No matter where your travel takes you, our company is dedicated to providing you with the highest level of service and convenience. We look forward to taking you to your destination with ease and comfort.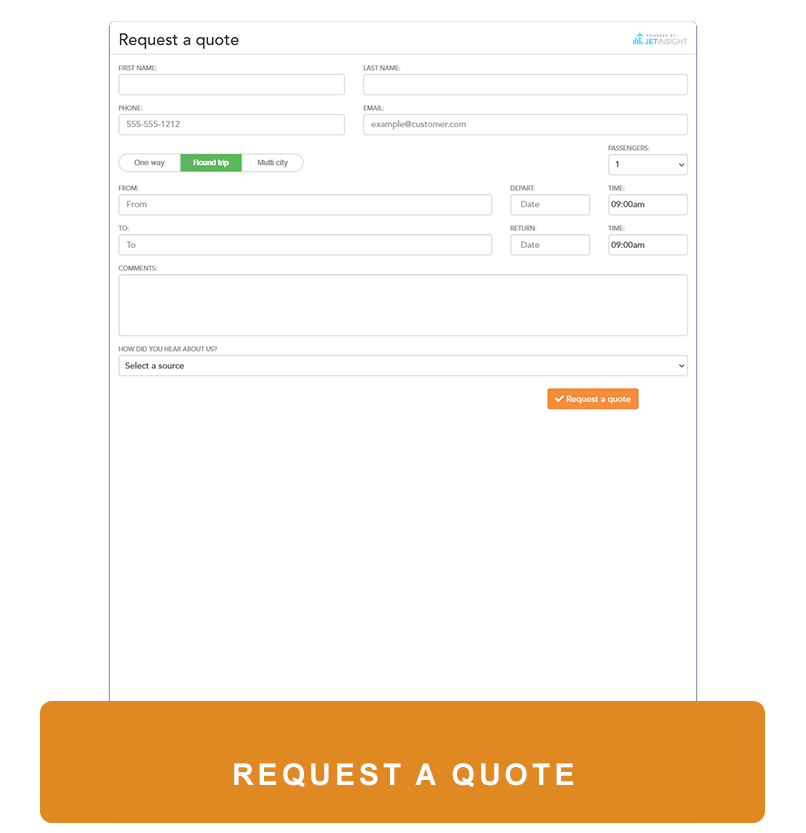 Our professional staff is ready to assist you in booking your private jet or turbo-charged propeller charter aircraft. Let's start with some basic information to get you going.
You can also reach us by phone, text and email.
Email: info@nobleaircharter.com