No passport? No problem! You don't need a passport to travel to the exotic Caribbean islands of St Thomas, St Croix, and St John. These three islands – known collectively as the US Virgin Islands – are an American commonwealth, and therefore domestic travel for US citizens.
St Thomas – Enjoy plenty of duty-free shopping, spectacular diving, and world-class dining in this Caribbean Paradise. The island's world-renowned golf course, picture-perfect beaches, and spectacular nightlife will take your breath away. Thrill to the Skyride 700 feet above the city or climb the famous 99 Steps of Charlotte Amalie for an incomparable view of the sea. And if you like culture and history, don't miss seeing the second-oldest synagogue in the Western Hemisphere, the 1680-built Fort Christian, or the childhood home of French Impressionist, Camille Pissarro.
St Croix – St. Croix delights the senses with gorgeous beaches, world-class recreational activities, fine dining, casino, and golf. Although only 22.7 miles long and 8 miles at its widest point, the landscape of St. Croix is surprisingly diverse. Visiting its two main cities will give you a glimpse of the island's incredible history-from regal 18th and 19th-century homes in Christiansted to a tropical rain forest in Frederiksted.
St John – Come for unspoiled beauty. The smallest of the islands, St. John offers visitors pristine splendor amid modern luxuries. Originally settled by the Arawak and Carib Indians, the island has a history as rich as its landscape. The United States purchased St. John from the Danish West India and Guinea Company in 1917. In 1956, over 5,000 acres of the island was donated to the National Park Service. With two-thirds of the island designated as a park, St. John has some of the world's most beautiful beaches, like the much-beloved Trunk Bay, renowned for its crystal sands and underwater nature trail.
Plan your honeymoon, scuba adventure, or tropical getaway
Escape to Utopia – Noble Air Charter will take you there!
What could be easier? All you have to do is pick up the phone and you'll be on your way to a tropical Paradise. Noble Charter is ready to go when you are.
No matter which beautiful island you choose, when you board your luxurious charter flight at Opa-Locka Executive Airport, you'll find comfort, convenience, and superior personal service. With Noble Air charter flights, you get…
Your choice of Turbo-Prop or Jet Aircraft
Your choice of custom-catered meals
No waiting, no TSA delays, no extra baggage fees
Safety! Fourteen years of experience
Surprisingly affordable service 365 days a year
Noble Air's jets and turbo-props fly where you want to go, when you want to go there. Concierge services are available too.
Pack your bags and contact us. There's a beautiful spot on a beautiful beach just waiting for you. We're ready to go! Are you?
or a Twin-Propeller Aircraft?
Our recommendations for the ideal aircraft vary based on your specific travel requirements. Typically, for distances of 250 miles or less, we suggest a Twin-Engine Propeller aircraft. This type of aircraft is especially suitable for short runways. For longer distances and faster travel times, we suggest choosing a Jet.

Our team understands that every travel need is unique, and we're ready to provide customized solutions for your travel plans. Our fleet is diverse and equipped to cater to a range of requirements, and our pilots are highly trained professionals who prioritize your safety and comfort. No matter where your travel takes you, our company is dedicated to providing you with the highest level of service and convenience. We look forward to taking you to your destination with ease and comfort.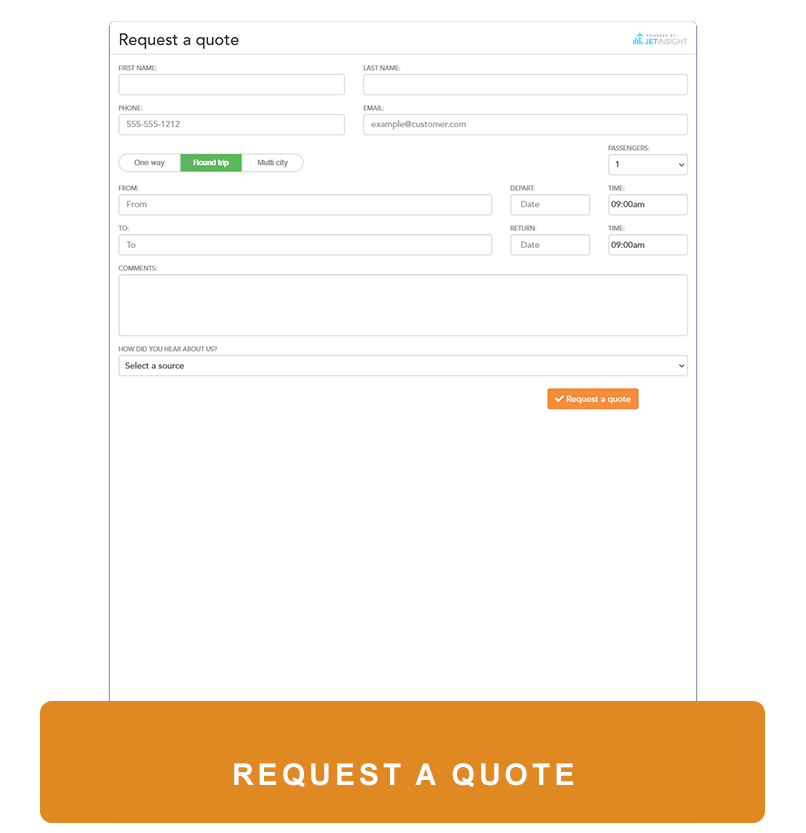 Our professional staff is ready to assist you in booking your private jet or turbo-charged propeller charter aircraft. Let's start with some basic information to get you going.
You can also reach us by phone, text and email.
Email: info@nobleaircharter.com